Submitted by Annette Barnette
Public Relations & Marketing Director
Glenville State College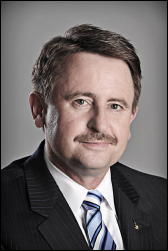 Glenville, WV - West Virginia House of Delegates Majority Leader Brent Boggs (D - Braxton County) of Gassaway is scheduled to be the keynote speaker during the 2010 Glenville State College Commencement. The ceremony will take place on Saturday, May 8th at 10:00 a.m. in the Jesse R. Lilly, Jr. Gymnasium and is open to the public. Delegate Boggs is a 1976 graduate of Glenville State College and received the GSC Presidential Citation and GSC Community Service Award at the school's 2007 commencement. He will address those in attendance including nearly 170 graduates.
Boggs said, "I am truly humbled and touched by this honor and am excited to be able to share such a momentous day with West Virginia's best and brightest, the leaders of tomorrow."
Delegate Boggs is in his 14th year as a member of the West Virginia House of Delegates. He was first elected in 1996 from the 34th District representing Gilmer and Braxton Counties.
Speaker Richard Thompson appointed Delegate Boggs to serve in a leadership role as Vice-Chairman of the House Finance Committee in 2006 and was named House Majority Leader in 2008. As the House of Delegates Majority Leader, he is instrumental to the operations of the House of Delegates as the main administrator with duties ranging from parking issues to handling fiscal policy matters within the state's budget.
In addition, he is Co-Chair of the Legislative Rural Health Caucus and serves on the Joint Committee on Government and Finance, Standing Committee on Government Organization, Select Committee on Emergency Health Preparedness, Legislative Intern Committee, Legislative Oversight Committee on Regional Jail and Correctional Facility Authority, and Commission on Special Investigations.
Delegate Boggs has also served as Chair of the Roads and Transportation Committee and was an active member of the Health and Human Resources Committee. He has served on the Joint Interim Committee on Technology, Joint Committee on Infrastructure, Joint Committee on Broadband, and Legislative Oversight Commission on Health and Human Resources Accountability. He has served on numerous standing, select and interim committees throughout his legislative tenure.
In addition to his legislative service, Governor Manchin appointed Delegate Boggs to the West Virginia Infrastructure and Jobs Development Council while Speaker Richard Thompson appointed him to the Courthouse Facilities Improvement Authority.
He has deep roots in the transportation industry and government serving as a lobbyist at the State Capitol for 12 years prior to the beginning of his legislative service. On the Federal level, he worked on Capitol Hill from 1997 to 2002 working on surface transportation issues simultaneous with his legislative service. He continues to work closely with our Congressional delegation on issues relating to economic development, infrastructure, transportation and safety in West Virginia.
In the community, he serves on the Braxton County Memorial Hospital Board of Directors, Mountaineer Food Bank Board of Directors, Appalachian Area on Aging Board of Directors, and Central WV Aging Services Board of Directors. He is a member of the National Rifle Association, West Virginia Farm Bureau, West Virginians for Life, and Sons of American Legion. Delegate Boggs is President of the Gilmer-Braxton Technology Research Zone, a non-profit entity he helped form through legislation to move forward with development and deployment of high-speed and wireless broadband service to central West Virginia.
A 32-year engineer with CSX Transportation, Delegate Boggs is a member of the Gassaway Baptist Church, a 32nd Degree Mason, and a member of the Beni Kedem Shrine and Scottish Rite. He and his wife, Jean, reside in Gassaway. They have been married thirty-one years and are the parents of two children: Jessica (Boggs) Singleton and Justin Boggs. They also have four grandchildren.