Submitted by Brandy Brabham
WVU Extension Service Agent

Calhoun County 4-H members participated in the State 4-H and FFA Horse Judging Contest April 24 at Potomac State College of WVU in Keyser, WV. The junior division participants were Brooklynn Nicholson, Maranda King, Kody Schultz, and Donavan King. Angel Samples was the only senior division participant. The participants were coached by 4-H Volunteer Leader Michelle Cutshall of the Silver Spurs 4-H Horse Club.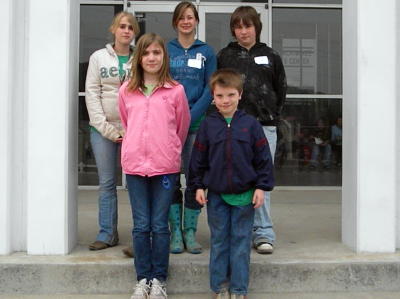 Calhoun 4-H members receive red and blue ribbons
There were 113 youth participants from 17 counties involved in the State 4-H and FFA Horse Judging Contest. Each of the participants from Calhoun County received either a blue or red ribbon. Their accomplishments are to be commended. This was the first state 4-H judging contest that 4-H members from Calhoun County have participated in several years. The WVU Extension Office in Calhoun County would like to give a special thanks to all the volunteers and parents that helped train the team and travel to the contest to support our youth.
The State Horse Judging Contest is designed to provide youth participants with the opportunity to develop skills in critical thinking, leadership, teamwork, evaluation, communications, and decision-making. It gives participants the opportunity to recognize good conformation (structural correctness, balance, and muscling), breed character, and performance ideals in different breeds of horses. It allows them to select and evaluate horses based on knowledge and fact, make a decision, and then defend their decision through oral reasons Participants learn equine terms which can be used in a logical, systematic way to defend their placing and build self-confidence and self-reliance by learning to speak clearly, decisively and convincingly through the presentation of oral reasons.
This contest included four halter classes and two riding (performance) classes with oral reasons on at least two of classes of the horses that were judged. In 2010, juniors' oral reasons were not counted in the scoring for the contest. In 2011, juniors' oral reasons will be counted as a scoring item. Notes were not allowed for juniors or seniors when presenting oral reasons.
For more information about this contest or other 4-H judging contests or events, please contact your local WVU Extension Office in Calhoun County at 304-354-6332.