By Bob Weaver

High-tech geo-surveying has returned to Calhoun, looking for pockets of Marcellus Shale natural gas, likely evaluating angles of underground faults that could be accessed by horizontal drilling.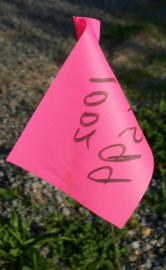 Those tiny flags along highways in the Beech, Spring Run, Arnoldsburg, Mt. Zion, White Pine and other areas, denote where Geokinetics USA Inc. from Houston, Texas will likely be using large earth thumpers to map the underground world.
Such outfits have used small explosives after drilling holes into the earth to obtain readings.
Over ten years ago, geo-surveying descended on Calhoun with technology in anticipation of deep well drilling.
In Calhoun and regional counties, the gas pockets are known, with the latest efforts likely defining how to maneuver through shifting earth plates for slant drilling in the Marcellus.
Geokinetics USA Inc. says its seismic crews and processing experts are "equipped with the latest technology and are continually pushing operating boundaries in the quest to provide optimum data safely and efficiently.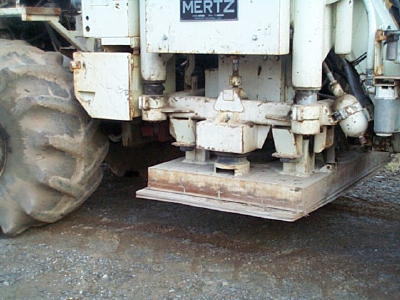 Thumper photographed by the Herald in 1999
The testing companies do not seek permission of the local holders of the royalty to evaluate their holdings, but do obtain a permit from the WV Department of Highways to do the research from public right-of-way.
Marcellus development has been slowed by the current low price of natural gas, although a number of wells have been drilled in Calhoun.
Chesapeake Gas reportedly made a deal with a Norwegian company to lease Calhoun and regional gas royalty for $5,666.66 per acre, while Chesapeake frequently paid local owners between $5-$10 an acre for the leases.
Calhoun is listed on maps as a key Marcellus Shale location.
That formation has generally been defined as under 6,000 feet.
Yet to be tapped, the huge reserves of deep well gas under the county.