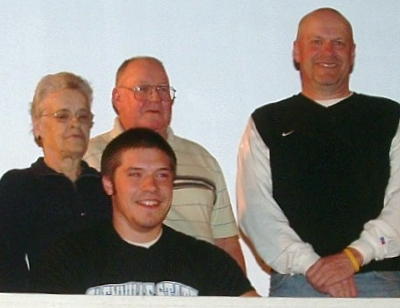 (Front) Zach Moore (Back) Zach's grandparents,
Liz and Jack Moore and Tim Moore, Zach's father
By Gaylen Duskey
realfang@citlink.net
Calhoun All-State player Zach Moore has signed to play basketball at Glenville State College.
Moore signed the paperwork Wednesday afternoon at Calhoun County High School with his family and coaches looking on.
He is just the fourth player in Calhoun High School history to sign to play basketball at college joining Phil D'Orazio, Tim Davis and Marcus Davis.
Moore was a four-year starter in high school - three for Calhoun and one for Wirt County - and is the first player in school history to have more than 1,000 rebounds and 1,000 points.
During his career he averaged slightly more than 17 points a game.
During his senior year he averaged 19 points per game while leading Calhoun to the most wins in recent history with 10.
He was a four-sport letterman for the Red Devils earning letters in basketball, football, baseball and track.
He was a standout in football first as a wide receiver and then as a quarterback, making All-LKC.
But it was basketball where he stood out the most as a multi-year All-LKC honoree and an All-State honoree, earning first-team honors this past season joining Tim and Marcus Davis as the only Red Devils to earn first team all-state honors.
At Glenville Moore will play for second-year coach Steven Dye. Last year the Pioneers finished with a 7-21 record with a team loaded with underclassmen.
Moore will probably play shooting guard for the Pioneers.