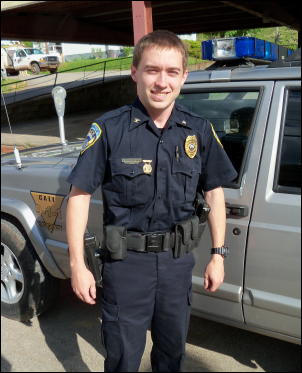 Grantsville Police Chief, Jeff Starcher
Jeff Starcher has been named the new Grantsville Chief of Police.
Starcher graduated from the WV State Police Academy in 2009, completing a 16-week course consisting of a rigorous PT program, defensive tactics, O.C. certification, baton certification and criminal and traffic law.
He had previously served as an officer with the Grantsville department, and is still serving as a part-time Calhoun deputy sheriff.
A 2006 Calhoun High School graduate, Starcher studied criminal justice, and was a former news director for WVRC Radio in Spencer.
Starcher's long-time ambition has been to become a police officer. "My community has given to me and I will give to it," he said.
He is the son of Winifred and Norma Starcher of Orma.
Last weekend he was united in marriage with Samantha Marie Jarvis.
see related stories
JEFF STARCHER WORKING ON HIS DREAM
JEFF STARCHER GRADUATES POLICE ACADEMY