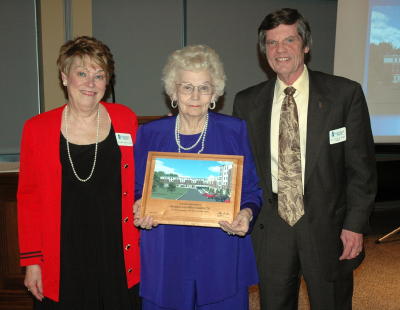 Betsy and Dr. Peter Barr present a plaque commemorating Margaret Miller Goodwin's (center) generous gift to GSC. The new residence hall under construction at GSC will be named Goodwin Hall in her honor.
Submitted by Bob Edwards
Public Relations Dept. Asst.
Glenville State College
Glenville, WV - Glenville State College alum Margaret Miller Goodwin, Class of '51, has pledged a significant gift toward the Transforming Lives Now! capital campaign. Kicked off in July 2007, the campaign is the first comprehensive effort to secure the future of Glenville State and the impact of the college on students and Central West Virginia.
Glenville State College President Dr. Peter Barr is amazed by the breadth of Margaret's commitment. "This gift comes at a critical time in the Transforming Lives Now! campaign. With the goal in sight, this gift represents a huge boost in realizing the construction of a facility on Mineral Road that will house an expanded Natural Resource Center, a health care facility that will help stimulate retirement investments in the county, and a convention center that can be an economic boom for central West Virginia," said Barr.
Goodwin's gift was announced by the President's wife Betsy Barr at the annual GSC Alumni Day dinner on Saturday, April 24th. Because of Mrs. Goodwin's generous donation, the new residence hall under construction at GSC will be named Goodwin Hall.
The first phase of this new building, which will accommodate over two-hundred students, is scheduled to be completed by August 2010. By January 2011, the building will be fully operational and will house nearly 500 students. The five-story building will not only be the newest housing option for GSC students but will also hold offices, conference rooms, and the campus physical plant.
Remarkably, Goodwin Hall will stand on the same ground that held buildings where Margaret Miller Goodwin attended grade school and high school.
"I wanted to give back to Glenville State College because of what the school has done for me. I pray that my grandchildren will have the same opportunities that GSC afforded me. I hope that this new residence hall will encourage even more students to come to Glenville State College and reap the rewards that my family and I have," said Goodwin.
A Gilmer County, West Virginia native, Goodwin is the daughter of the late Wayne W. Miller and Merle Southall Miller. Margaret and her four sisters were raised during the Depression. Their mother secured a job in the wash room and later as a cook in the Kanawha Hall on campus. When her father lost his job with South Penn Oil, the family moved in with their grandmother on a farm on Alice Road until moving to the Northview area of Glenville in 1936.
Margaret was the first in her family to complete college. She earned her degree in only three years. Since she was unable to pay the $18.00 per semester tuition and fees, Mr. Casey Jones, the college's business manager, allowed her to make payments. That showing of concern along with a strong helping hand from one of her professors, Dr. Floyd Miller, and the many ways that GSC helped her succeed in life, made Margaret determined to give back to GSC.
After graduation from GSC in 1951, Margaret moved to Dayton, Ohio to live with a cousin and seek employment. She had completed her student teaching in art and speech, but it was in the library that she felt most at home. In Dayton, she secured a position as librarian at Roosevelt High, the largest high school in that area with over 3,200 students. There she met her husband, Bill, who taught industrial arts.
As their three children were born and raised, Margaret briefly left the library but was called back by her love of working with books. She returned to a new high school that was under construction and worked there until her retirement.
The Goodwin's were avid campers, but Bill wanted a permanent place to "get away" from the growing Dayton area. A friend told them about a small 39 cottage camp ground and store that was for sale on Grand Lake St. Mary's, an hour north of Dayton, and they purchased the property. Today, the original 39 cottages have grown into one of the largest privately held campgrounds in the Midwest with over 700 permanent and transient sites, along with marina facilities.
Bill and Margaret remain active in the operation of the park, though many of the day to day activities are handled by their daughter. One of their sons manages the marina, and the other has a retail boating business on the opposing shore.
"I think it is especially poignant that an individual, whose life was literally transformed by this college, now will help transform the lives of thousands of future students. Her gift will help Glenville State College remain the most accessible avenue in central West Virginia for young men and women to gain a college degree," said Dr. Peter Barr.