Kathleen H. Taylor
fieldaflowas@yahoo.com

Welcome back to Beason.

First, we would like to ask everyone to keep Trooper Pringle and his family in their prayers. We also ask that you be respectful of his family's wishes during this very difficult time.

We would also like to extend our deepest sympathy to the McCullough family. Please know you are in our hearts and prayers.

Prom Day at the shop was on Saturday, April 24th. It was a pretty busy day for us. We want to thank all the girls for coming and we look forward to seeing them again soon.

I am so excited that my sunflowers are coming up. Now, if everyone remembers to keep the gates closed, we will have flowers. If not, I am going to have stems and then everyone will have to deal with me. Most people make it a point not to deal with me. So, they'll probably remember to keep those gates shut. Ha-Ha. I'm also going to try and grow some morning glories. But, I am told they go a little crazy after they get started. I always thought they were pretty, so, I am going to give it the Girl Scout try. On a positive note, I haven't killed my hanging basket yet. But, I haven't had it very long though. Give me enough time and it will be in the Great Flower Bed in the Sky along with all my other former flowers.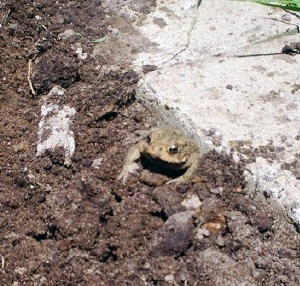 Our dog, Rock, has discovered the joy of chasing toads. We were really surprised that he even bothered to notice them. His day usually consists of snoozing, getting up and stretching, turning around and back to the snooze mode. So, this actual effort to move was a shocker to us. Anyway, he made quite an effort to play with them but got discouraged when they didn't really want to play with him. To add to this excitement, there was some PDA amongst some of the toads in our yard. Why can't they take their love elsewhere so I don't have to make up something to explain it? Today, I told Avery one of the frogs was seriously injured and his "friend" thought it would be dangerous to walk on his own four feet. So, that small exaggeration of a semi-truth (that's better than saying lie) worked for today. Whew! That was a close one.
T-Ball has been keeping us all busy. Avery had the nerve to tell me, "Mom, you need to get on that wash or I'm going to have a dirty uniform tomorrow night." I was like, "Excuse me?" It seems there is one little eight year old who may be doing his own baseball laundry from now on.
My buddy, Chuck, and his band Side FX, had a new CD come out this past weekend. The band is excellent and I am sure they will be on the cover of Rolling Stone in no time! So, if there is a record label out there reading this, you better snatch these guys up before someone else does! If you would like a CD, please let me know and I will pass on your request to Chuck.
Will they ever lift the ban on burning? I am ready to have the first big grill-out of the season. I have been without roasted marshmallows for a whole year and I am going through some serious withdrawal. So, I wish Smokey would get his fur out of a wad for a little while and let us have a fire. But, he does make the rules, not me. So, I guess we have to follow them. Gosh, I hate rules!
Wishing you a wonderful and peace filled week.