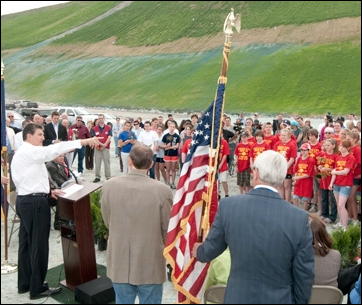 West Virginia Governor Joe Manchin addresses crowd during the Thursday morning ceremonies at Charleston's Yeager Airport.
Photos by Drew Moody
Ceremonies were held Thursday morning below the north-western slope of Charleston's Yeager Airport celebrating the 40th anniversary of Earth Day.
The event included the ceremonial planting of 29 miner memorial trees in honor of those killed in the April 5 explosion at Montcoal's Upper Big Branch mine. One of the victims, William Roosevelt Lynch, 59, of Oak Hill, was a Glenville State College alumni.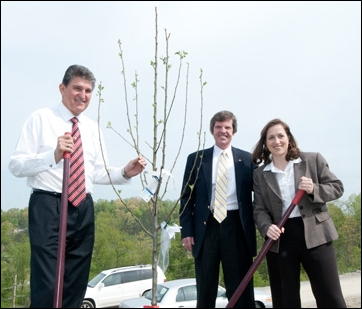 Governor Joe Manchin, left, Glenville State College
President Peter B. Barr, and WV Secretary of State
Natalie Tennant with one of the 29 memorial miner trees.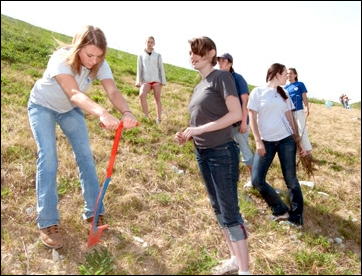 Glenville State College student, Carrie Harpold,
gets Washington and Lee University students started
planting by showing them how to use a tree spade.
Governor Joe Manchin and Secretary of State Natalie Tennant were among the state dignitaries in attendance. Glenville State College president, Dr. Peter B. Barr, and the Governor briefly addressed the crowd.
Other groups in attendance included Glenville State College students and faculty, as well as Washington and Lee University (VA) students. Edison Middle School of Parkersburg brought almost 50 students to participate.
Following the event the student volunteers, including Edison's group, began planting an estimated 4,000 small trees brought to the site.
Glenville State College's land resources department "adopted" the airport to help reclaim the hillside following extensive runway extension work. That effort has been ongoing for about 18-months.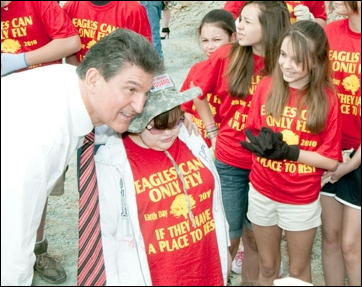 Following the ceremonies Governor Joe Manchin
stops to chat with Edison Middle School students
volunteering to help plant trees at the site.