Glenville, WV - The Glenville State College Concert Band members will be performing their Spring 'Pops' Concert on Friday, April 23rd at 8:00 p.m. in the GSC Fine Arts Center Auditorium.

The set includes selections from 'The Wizard of Oz,' Sousa Palooza, Irish Tune from County Derry, Carnival of Venice, Latin Fantasy, A Night in June, and Clifton Williams Symphonic Suite.

Euphonium Player Dr. Neal Corwell with the United States Army 'Pershing's Own' Band in Washington, D.C. will be a special guest soloist for the Carnival of Venice.

Admission for GSC Students will be free with ID, and general admission will be by donation.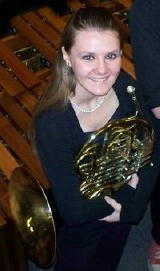 Glenville State College Senior Music Education Major Catisha Scavairello (left) from Linn in Gilmer County will be performing in her Horn and Voice Senior Recital on Saturday, April 24th from 3:00 p.m. until 6:00 p.m. in the GSC Fine Arts Center Auditorium.
Pieces to be performed include works from Richard Strauss, Alec Wilder, Mozart, Handel, and many more. She will be accompanied by many of her peers for this event.
Admission is free. A bean and cornbread dinner will be held after the recital and is open to all.
For more information about either event, contact the GSC Fine Arts Department Administrative Assistant Sheri Skidmore at Sheri.Skidmore@glenville.edu or (304)462-4130.