The April 5 explosion at the Upper Big Branch mine in Montcoal killed 29 West Virginia Miners. Their names are listed below.

One of those, William Roosevelt Lynch, 59, of Oak Hill, was a Glenville State College alumni. See detailed account of Lynch's history with GSC

The recent tragedy at the Massey Energy Company mine is the worst U.S. mining disaster since 1970, according to the Associated Press.

A candlelight memorial was held Tuesday night at Glenville State College. Forty people were in attendance.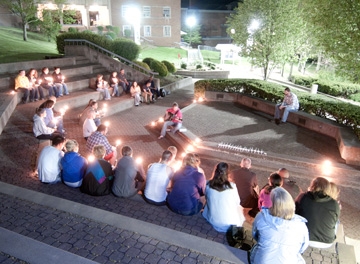 Forty people attended the Tuesday night candlelight memorial
for the 29 miners recently killed in southern West Virginia.
One a Glenville State College alumni. (Photo by Drew Moody)
The invocation and prayer was given by Reverend Mark James of the Wesleyan Foundation. Dr. Peter B. Barr, president of the college, and Marlon Henry, president of the student government association, spoke briefly.
The names of the victims were read aloud.
Mary Sue Bailey sang inspirational songs in memory of the miners.
The event was organized by the Glenville State College Student Government Association.
The miners killed in the blast were:
Carl Acord, 52, of Bolt
Jason Matthew Atkins, 25, of Foster
Christopher Lee Bell, 33, of Crab Orchard
Gregory Steven Brock, 47, of Clear Creek
Michael Lee Elswick, 56, of Elkview
William Griffith, 54, of Glen Rogers
Ricky Workman, 50, of Colcord
Robert Eugene Clark, 41, of Beckley
Kenneth Chapman, 53, of Fairdale
Cory Davis, 20, of Dawes
Timmy Davis Sr., 51, of Eskdale
Steven J. Harrah, 40, of Cool Ridge
Edward Jones, 50, of Beckley
Richard Keith Lane, 45, of Cool Ridge
William Roosevelt Lynch, 59, of Oak Hill
Joe Marcum, 57, of Delbarton
Ronald Maynor, 31, of Clear Creek
Nicolas McCroskey, 26, of Beckley
James "Eddie" Mooney, 50, of Ashford
Adam Keith Morgan, 21, of Pineville
Rex Lane Mullins, 50, of Lively
Josh Napper, 25, of Pomeroy, Ohio
Howard Payne, 53, of Cabin Creek
Dillard Persinger, 32, of Crab Orchard
Joel "Jody" Price, 55, of Beckley
Gary Wayne Quarles, 33, of Naoma
Deward Allan Scott, 58, of Montcoal
Grover Dale Skeens, 57, of Montcoal
Benny Willingham, 61, of Corinne