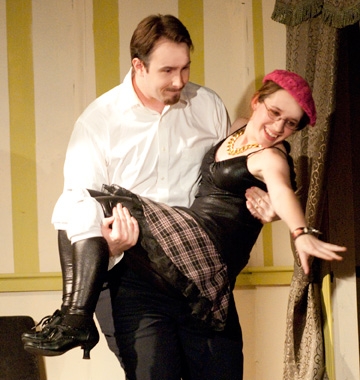 After getting Sylvia (Rose Johnson)
groomed, Greg (Paul Nagy) carries
her across the living room to show Kate.
Story and Photos by Drew Moody
The joys of owning a pet?
Enjoy a comedic version of life with 'man's best friend' in the Glenville State College Theatre production of "Sylvia."
Sixty-three percent of American homes have a pet; some are carefully planned members of the family, others aren't.
Many pets adapt to their family's expectations easily; others take longer, or sometimes fail.
Sylvia came into Greg (Paul Nagy) and Kate's (Sarah Sivard) life rather abruptly.
Perhaps his routine was skewed by boredom, or an argument with his boss. One thing for sure, life wasn't the same after he stopped by the pound and adopted Sylvia.
Sylvia (Rose Johnson) loves Greg, while the relationship with Kate was mutually 'cool.'
Kate eventually begins to resent the dog.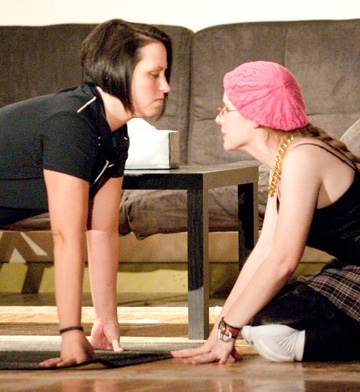 Kate (Sarah Sivard) has had enough and goes
"nose-to-nose" with Sylvia laying down the law.
Greg and Kate begin having 'real' or 'imagined' conversations with Sylvia, playing out their fears, anger and jealousies through the dog.
The outcome is an hilarious jaunt through Greg and Kate's life as they argue and adjust to their new house mate.
See "Sylvia" Friday night at 7 p.m. in the administration building's President's Auditorium.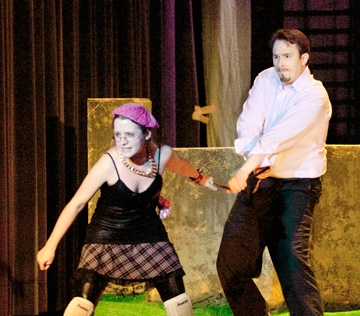 Greg sees a different side of Sylvia when she
strains against her leash trying to get at a cat.
J.C. Sherman, Lois Miller and Erica Butler have supporting roles in the production, directed by Dennis Wemm. The play was written by A.R. Gurney.
It originally opened May 2, 1995 at Stage I of the Manhattan Theatre Club, where it ran for 167 performances. The cast included Sarah Jessica Parker, Blythe Danner, and Charles Kimbrough. The production received Drama Desk Award nominations for Outstanding Play, Outstanding Actress in a Play (Parker), and Outstanding Costume Design.
The play is rated "R" due to language.