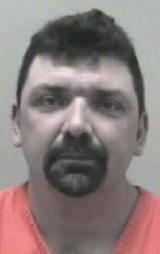 Former Grantsville resident Christopher Todd Smith has been arrested for retaliation against a witness, a felony, after allegedly shooting out a window of a mobile home belonging to Sterling Alfred Lamp.

Smith has also been charged with destruction of property in another incident.

Smith is waiting sentencing in a 2007 Grantsville drug case, following a plea deal reached in Calhoun Circuit Court.

Central Regional Jail said Tuesday night his bond related to that case has been revoked.

See related story PLEA AGREEMENT IN CHRISTOPHER TODD SMITH DRUG CASE - Sentencing Set For June

The criminal complaint brought by the State Police contends that Smith drove to Lamp's residence on April 9, just off Rt. 5 near Cabot Station, and fired into Lamp's property using an air gun with pellets.

Lamp was allegedly a witness in a 2007 drug case against Smith, according to the complaint.

The complaint says Lamp "stayed at [his] trailer expecting retaliation against him by [Smith] ... due to [Lamp] having given factual statements against [Smith]... the first being to the State Fire Marshal when Smith was suspected of arson, and again when Smith was arrested on drug charges."

Lamp told investigating officer Cpl. Doug Starcher he had seen Smith driving by his residence earlier in the day, says the complaint, after which "he waited in his trailer, thinking that [Smith] would try and burn his trailer in retaliation for being a witness against him."

Cpl. Starcher says he learned that Smith had purchased a pellet gun from Kelly's Home Source in Grantsville in February 2010, and had also purchased C02 cartridges on April 7.

Smith had been charged with shooting a pellet gun at a Charleston Gazette newspaper carrier in 2007, those charges were dropped for lack of evidence.

Smith is also charged with shooting at property belonging to Grantsville Mayor Gary Knight. Smith allegedly was using an air gun.

A destruction of property charge, a misdemeanor, has been filed against Smith, related to damage to a solar light, a yard fixture, and a Ford Ranger on or near the mayor's property.

Following a call from the Knight family to 911, Cpl. Starcher stopped Smith in Grantsville, after which Smith gave the officer permission to search his vehicle, according to the complaint.

"[Smith] denied owning or possessing a BB gun," says the complaint, after which the officer discovered a tube of BB's on his console.

"... Smith then went on to state he did not know how the BB's got in his vehicle," says the complaint.

Sources have indicated that Smith could be facing additional charges after a search warrant was obtained for his property on Monday.