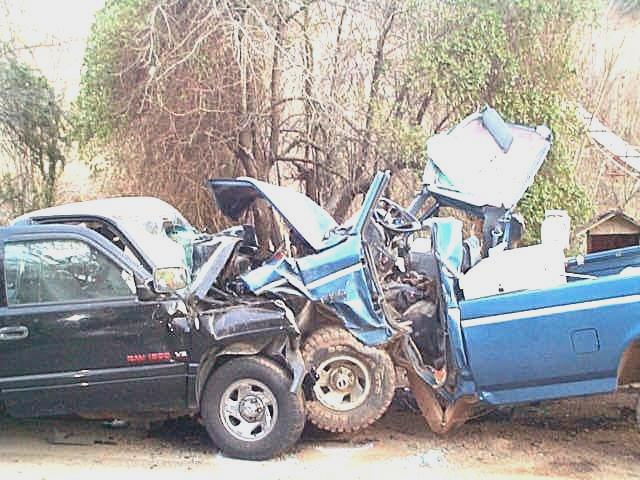 Head-on collision kills Carroll Road man
Calhoun had a second highway fatality within a week yesterday. Killed in a head-on truck collision on Route 5, west of Big Bend, was Rodney D. Wagoner, 44, of Carroll Road.
His son, Brian Wagoner, about 20, was driving the vehicle. He was life-flighted from the scene by HealthNet I and taken to Charleston Area Medical Center, with multiple trauma.
The driver of the other vehicle was not identified, although sources at the scene stated he had been traveling from Stumptown to Parkersburg. He was taken to Minnie Hamilton Health Care Center by Calhoun EMS, where he was later transported by chopper to Charleston Area Medical Center. Suffering from multiple injuries, a report on his condition was not available.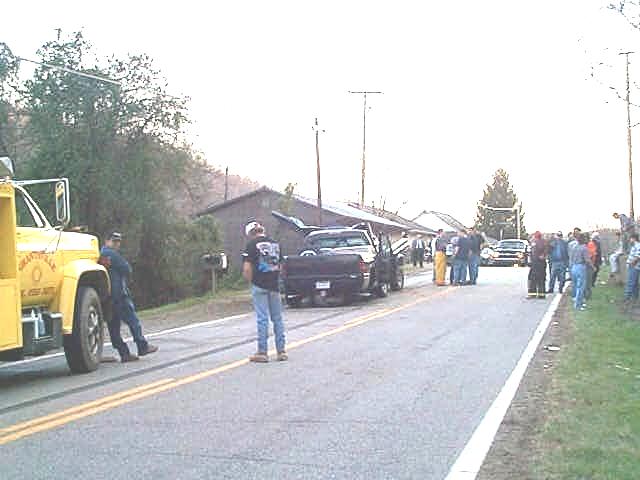 A truck traveling east on Rt. 5 apparently went left of center
Grantsville firemen used the Jaws of Life
The Wagoner truck was traveling east on Route 5, with the other truck traveling west, appearing to have gone left of center. Both vehicles left long skid marks prior to impact. Sources at the scene said speed was a factor in the collision.
Grantsville Fire Chief Dave Johnson said victims had to be extracted from both vehicles. "It was a rare occasion, we had to use both of the departments Jaws of Life," he said. About a dozen firemen and three units responded, with traffic tied-up for about three hours.
Calhoun EMS rallied most of their resources, dispatching ambulances and medics to the scene.
Rodney Wagoner is the son of retired rural mail carrier and well-known Yellow Creek resident Paul Wagoner, and his wife Grace.