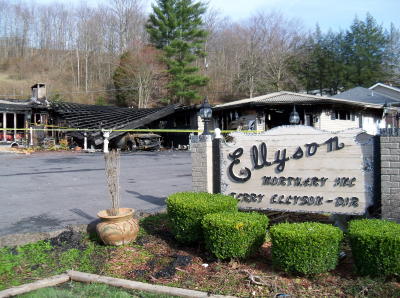 Gilmer County's Ellyson Mortuary destroyed
by early morning fire (Hur Herald Photo)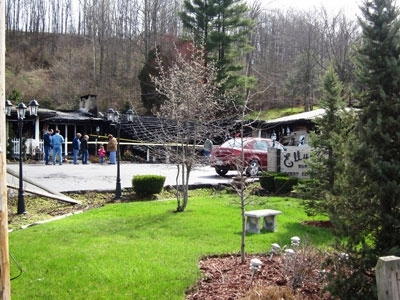 Neighbors and friends gather after early morning
tragedy (Photo courtesy of the Gilmer Free Press)
Glenville funeral director Terry Ellyson said his mortuary will be back in operation quickly through the cooperation of Gilmer County churches.
The Ellyson Mortuary, located along State Route 5, was destroyed by fire early Saturday morning.
Ellyson said he was in his residence, which is connected to the funeral home, when the fire broke out at 2 a.m. His family cats died in the blaze, he said.
"This is something I never thought about happening," Ellyson said. The funeral director was covered with black soot, and said he had been unable to rest following the tragedy.
He indicated many of the funeral home records have been destroyed, many going back to earlier funeral homes in the community owned by Spurgeon and McGhee.
"It spread very quickly," he said, indicating he was still awake when it broke out.
The WV Fire Marshal is investigating the cause.
"We will back in operation quickly," Ellyson said, with the generosity of Gilmer County churches who have agreed to allow the funeral home to use their buildings for visitations.
The funeral home is establishing an office through the generosity of Gilco-Faith Pharmacy and the phone is being answered.
"We will be rebuilding," Ellyson concluded.
The Gilmer County Volunteer Fire Department and departments from Burnsville, Troy and Sand Fork responded to the call.
Car destroyed in drive-through, but most funeral home
vehicles escaped ruin in nearby garage (Hur Herald Photo)