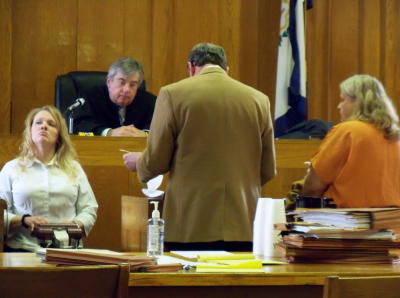 Attorney Benford and Jackie Denmark seek
bond approval before Judge David W. Nibert
By Bob Weaver
Attorney Lee Benford asked Judge David W. Nibert to release Jackie Lynn Denmark, 56, on bond, during a hearing in Grantsville yesterday.
Jackie Denmark of Beech, Calhoun is one of three members of her family facing multiple charges related to alleged shootings and a kidnapping, according to a criminal complaint.
She is charged with aiding and abetting kidnapping, allegedly committed by her son Seth Denmark, 22.
A criminal complaint filed against her by lead investigator Cpl. Doug Starcher indicates she was present when the alleged murder of David Beach occurred.
Attorney Benford told the court Jackie Denmark had never been in trouble with the law, indicating she could be bonded and put on home confinement.
Prosecutors Shelly DeMarino and Josh Downey opposed the bond, saying, "There was probable cause for a serious offense, not a good case for home confinement."
They further objected, saying if released, she would be staying with her husband William Denmark, a co-defendant, who has been released on bond and is apparently on home confinement.
William Denmark, 58, has been charged with conspiracy to inflict bodily injury, linked to the alleged shooting of Aaron Lloyd in 2006.
Attorney Benford continued to plead for Jackie Denmark's bond, saying she has been living in Calhoun for about 25 years, recently moving to Looneyville in Roane County, further indicating she has college degrees, including a degree in history and medical care.
Benford suggested a $50,000 surety bond.
Prosecutor Downey said further charges could be made against Jackie Denmark.
Judge Nibert said flight is the biggest concern in such cases.
He denied bond Monday, but will issue a written decision regarding the matter.
See related stories SETH DENMARK COMPLETES CHILD CONCEALMENT SENTENCE - Court Reviewing Bond Status
CALHOUN KIDNAPPING CHARGES ALLEGE MURDER OF MISSING YOUTH - Woman "Threatened At Gunpoint"