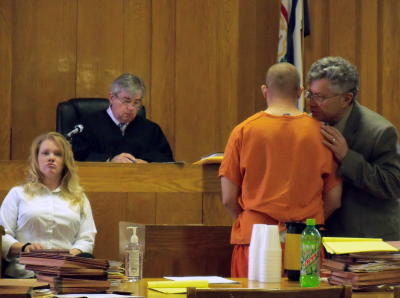 Attorney Ernie Skaggs (left) advises Seth
Denmark (right) before Judge David W. Nibert
William Seth Denmark, 22, appeared before Judge David W. Nibert yesterday in Grantsville, with attorney Ernie Skaggs saying Denmark successfully completed a stint in the Anthony Center on child concealment charges.
Denmark has recently been charged with kidnapping Veronica Cottrill and allegedly holding her at gunpoint while Denmark buried the body of David Wayne Beach, according to a criminal complaint filed by lead investigator Cpl. Doug Starcher of the WV State Police in Grantsville.
See CALHOUN KIDNAPPING CHARGES ALLEGE MURDER OF MISSING YOUTH - Woman "Threatened At Gunpoint"
In the earlier incident, Calhoun County Sheriff Carl Ballengee charged Denmark with the kidnapping of three juvenile girls, ages 16, 14, and 10 in October, 2007.
See DENMARK SENT TO ANTHONY CENTER ON CHILD CONCEALMENT CHARGE
William Denmark, his wife Jackie and son Seth have all been incarcerated on charges related to an alleged shooting, a kidnapping and a report by a witness alleging that Seth Denmark, 22, shot David Beach in the head and buried him in a grave four years ago.
The elder Denmark has been released on bond.
The issue in yesterday's hearing was regarding the imminent release of young Denmark, having completed his sentence.
Judge Nibert said Denmark is "facing serious charges," and ordered continued incarceration while he reviews his status.
Denmark asked to speak to the judge yesterday, saying, "I'd like to apologize, I didn't shave. I didn't know I was going to be in court this morning."