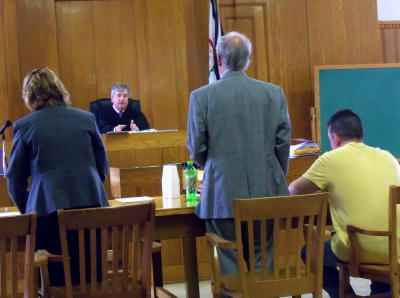 New Motions In Smith Case: (L to R) prosecutor DeMarino, Judge
David W. Nibert, attorney Tom Whittier, Christopher Todd Smith, seated
By Bob Weaver
Former Grantsville resident Christopher Todd Smith, through his attorney Tom Whittier, presented new motions to Circuit Judge David W. Nibert yesterday.
Smith is set for trial on April 6 related to a drug charge that happened in Grantsville in 2007.
One motion made by Smith's attorney Tom Whitter was for an in-camera hearing, a closed or private session with the judge.
Judge Nibert responded, "I don't want to have a hearing (on motions) on the trial date."
Prosecutor Shelly DeMarino said "I oppose this. It has drug on far too long, too many continuances," while reviewing the court record.
Prosecutor DeMarino expressed concern for a witness in Smith's drug case, Stephanie Stamper of Grantsville, a sister to the deceased Kelli Stamper-Lawson.
Kelli Stamper-Lawson was formerly Smith's girlfriend. She died suddenly last December in Weston, and was reportedly going to testify against Smith.
"I'm concerned about witness intimidation," the prosecutor said, referring to Stephanie Stamper.
Judge Nibert said he did not have such evidence before him.
During Monday's court, it was revealed that Smith and Stephanie Stamper have been issued mutual protective orders, related to a recent disagreement on Grantsville's Main Street.
The protective orders were issued after Smith allegedly backed his truck toward Stamper.
Smith's attorney claimed that Stamper is continually harassing Smith since the order was issued, "driving by his business place (Weston) many times a day."
Judge Nibert decided to hear Smith's motions on the scheduled trial date, April 6, commenting that the trial has been "on again, off again" since his indictment.
Smith will go to trial the following day. "Everybody get ready," Judge Nibert stated.
Last April, Judge Nibert rejected a plea agreement regarding Smith's drug charges, indicating Smith had a 20-year history of criminal charges in several counties, including the theft of a credit card from a man who died in a car accident. Smith purchased an ATV with the credit card, and did spend jail time for the offense.
See related story CHRISTOPHER TODD SMITH ARRESTED ON PETIT LARCENY CHARGES - Questions Surface Regarding Bond Status