Special Judge Larry Starcher, a former Supreme Court justice, ordered Grantsville resident John Manis Richards to jail for one-to-ten years, after Richards plead guilty last year to one count of grand larceny.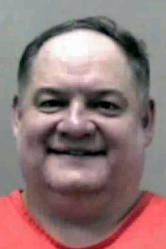 Richards (left) will serve his sentence in the WV state penitentiary.
The sentencing followed numerous delays, connected to the theft of merchandise and a truck from Hardman Supply in 2007.
In the plea arrangement, counts charging him with breaking and entering had been dismissed by a motion from Gilmer prosecutor Jerry Hough.
Before Richards was sentenced, his attorney requested alternative sentencing, which would have allowed Richards to remain at home because of his health problems and spend time with his four-month-old child.
Judge Starcher said he was aware of Richards' health problems, and that he would put in his sentencing order they be treated while he is incarcerated.
Judge Starcher told Richards that he has lots of health problems, stints in his heart and a rod in his leg, having to walk with a cane, saying he continues to work every day.
The judge said in reviewing Richard's criminal record, he found reports of 35 charges with only six convictions.
Richards must pay all court costs as assessed by Circuit Clerk Karen Elkin and a $3,000 restitution to Hardman Supply. Richards gave Elkin $1560 payment on the restitution, after which she paid the money to Hardman Supply.