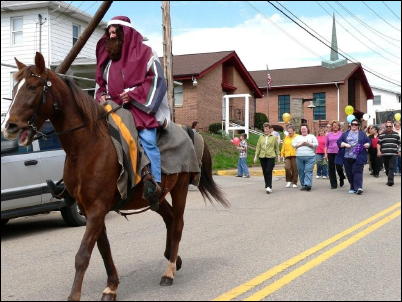 Larry Butler portrays Christ during the 2009 Palm Sunday
parade in Grantsville (Photo courtesy of Anita Vannoy)
As in years past, the Minnie Hamilton Chaplain's Association will host the Palm Sunday Parade in Grantsville on the 28th of March.
This symbolic reenactment of Christ's triumphant return to Jerusalem is becoming a mainstay in Calhoun County and is a fitting start to a flurry of Holy Week events leading to Easter.
The community will gather in the First Baptist Church in Grantsville at 3:00 p.m. After a short welcome and devotion, there will be a shout of jubilation while singing the praises of Jesus mounted on his colt, as He leads followers through town.
With Palm branches waving, the parade will conclude at Knotts Memorial UMC.
Once gathered within Knotts UMC, Pastor Shelly Mace of Louisa Chapel will lead everyone through a period of remembrance, reflection, and rejoicing as the Family of Christ comes together to celebrate the bond that ties Christians together.
There will be blessings with the musical talents of singers from several regional churches, followed by a gathering in the social hall to fulfill a need of fellowship and food.
The Palm Sunday Parade and activities are held with an open invitation to any and everyone who wish to take part.
Last year there was active participation of nine area churches and scores of individuals.
Dave Trippett, one of the organizers, says "Please feel free to join in. You are welcome."
For questions concerning the Chaplain's Association, call Pastor Rick Metheney at 304-354-6277 or Dave Trippett at 304-354-9341.
In the event of adverse weather conditions the community will meet at Knotts Memorial UMC at 3:00 p.m.