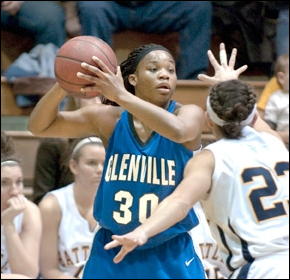 Donita Adams looks for a passing opportunity
during the recent Alderson-Broaddus away game.
Photos by Drew Moody
Glenville State guard Donita Adams, the WVIAC's leading scorer at 22.4 points per game, has been named as the league's 2009-10 Player of the Year by a vote of conference coaches. Davis & Elkins' Shalisa Hill takes Freshman of the Year accolades, while West Virginia Wesleyan's Steve Tierney rounds out the top awards as the WVIAC Women's Basketball Coach of the Year after leading the Bobcats to the conference's regular season crown.
Adams played a key role as Glenville State remained in contention for the WVIAC regular season title until the final day. The Lady Pioneers finished fourth in the WVIAC with a 15-7 league mark and posted a 17-9 overall record after being forecast to finish 12th in the annual coaches' pre-season poll.
The 5-7 senior guard responded in a big way to first-year head coach Bunky Harkleroad's up-tempo attack by producing over a point per minute. Adams, who currently ranks second nationally in scoring, racked up her impressive totals in only 21.3 minutes per outing. The Germantown, Maryland native contributed four games with 30 or more points in 2009-10 and went over the 20-point mark in 14 other contests. She also leads the WVIAC in free throw percentage (.831) and made free throws (147), while rating eighth in steals (2.1) and 21st in rebounds (6.0).
Two other Glenville State College Lady Pioneers were honored.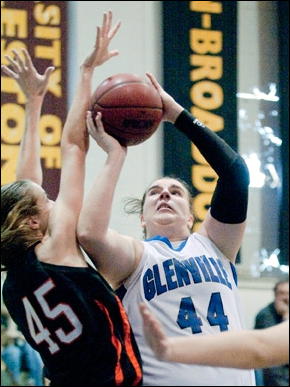 The West Virginia Wesleyan game Saturday night got
pretty physical, especially underneath. Here Kristen
Golden goes up for two inside while surrounded by defenders.
Kristen Golden, the 6-2 junior center from Weston, WV, was named to the All-WVIAC Second Team. Golden averaged 11.4 points per game with 6.7 rebounds. Ginny Petties was one of five conference players named to the All-Freshman team. Petties holds down the guard slot for the Lady Pioneers. She averaged 10.7 points per game, 4.6 rebounds and 3.7 assists.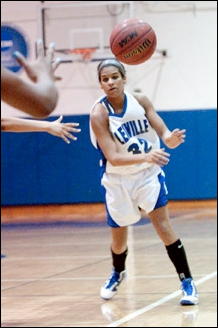 Ginny Petties fires a pass to the corner
during Saturday nights game against Wesleyan.
Tierney edged Seton Hill's Ferne Labati, Glenville State's Bunky Harkleroad, and Davis & Elkins' Jason Asbell in a tight finish for WVIAC Coach of the Year honors. The 1987 Sam Houston State graduate owns a 110-89 record in his seventh season at the Wesleyan helm. This season's Bobcats were only predicted to finish sixth in the WVIAC race after the loss of standout forward Sarah Van Horn, but they provided the school's first league regular season title and a 19-8 overall record. A victory in Wednesday's WVIAC Tournament quarterfinals would give WVWC back-to-back 20-win seasons after the 2008-09 'Cats finished at 20-10.
Fairmont State's Ashley Vavrek, Seton Hill's Katie Lintner, and West Liberty's Tori Hansen are repeat selections on this season's first team All-WVIAC squad. Pitt Johnstown's Sheena Aden and Seton Hill's Jordan Burkes move up from the 2008-09 all-conference second team. Adams, Alixandria Barnette (WV State), Lydia Bridenbaugh (WV Wesleyan), and Lindsey Kentner (Charleston) comprise the remainder of the nine-player All-WVIAC first team for 2009-10.
The complete All-WVIAC and All-Freshman teams follow:
1st Team:
Donita Adams (Glenville State, 5-7, Sr., G, Germantown, MD, 22.4 ppg, 6.0 rpg, 2.1 spg, 83% FT)
Sheena Aden (Pitt Johnstown, 5-7, Jr., G, Sandy Lake, PA, 14.6 ppg, 5.2 rpg, 2.9 apg, 50% FG)
Alixandria Barnette (WV State, 5-7, Sr., G, East Chapel Hill, NC, 19.6 ppg, 4.0 rpg, 2.2 apg)
Lydia Bridenbaugh (WV Wesleyan, 5-10, Soph., G, Chillicothe, OH, 17.0 ppg, 5.7 rpg, 79% FT)
Jordan Burkes (Seton Hill, 5-11, Jr., F, Coraopolis, PA, 14.1 ppg, 5.0 rpg, 3.3 apg, 82% FT)
Tori Hansen (West Liberty, 5-9, Jr., G, McKean, PA, 21.7 ppg, 6.9 rpg, 4.6 apg, 2.5 spg, 52% FG)
Lindsey Kentner (Charleston, 5-9, Jr., G, Wapakoneta, OH, 17.6 ppg, 4.4 rpg, 3.1 apg, 54% FG)
Katie Lintner (Seton Hill, 6-0, Sr., F, Johnstown, PA, 15.2 ppg, 7.6 rpg, 47% 3ptFG, 82% FT)
Ashley Vavrek (Fairmont State, 5-8, Sr., G, Bellaire, OH, 20.8 ppg, 2.3 apg, 69 3ptFG, 82% FT)
2nd Team:
Camisha Alexander (Concord, 5-4, Soph., G, Beckley, WV, 14.9 ppg, 3.3 rpg, 82% FT)
Kourtney Booth (Wheeling Jesuit, 5-8, Soph., G, Whipple, OH, 14.7 ppg, 3.1 apg, 41% 3ptFG)
Jolysa Brown (Concord, 6-0, Soph., C, Hinton, WV, 14.9 ppg, 9.0 rpg, 2.0 bpg)
Andrea Dalton (Pitt Johnstown, 5-10, Jr., F, Washington, PA, 14.3 ppg, 6.3 rpg, 84% FT)
Tarenna Dixon (Charleston, 5-11, Jr., F, Morgantown, WV, 12.5 ppg, 9.3 rpg, 55% FG)
Kristen Golden (Glenville State, 6-2, Jr., C, Weston, WV, 11.4 ppg, 6.7 rpg)
Shalisa Hill (Davis & Elkins, 5-8, Fr., G, Carneys Point, NJ, 14.4 ppg, 5.7 rpg, 3.6 apg, 3.0 spg)
Camille Wilmer (Shepherd, 6-0, Sr., C, Leesburg, VA, 14.1 ppg, 6.0 rpg, 55% FG)
All-Freshman:
Shalisa Hill (Davis & Elkins, 5-8, G, Carneys Point, NJ, 14.4 ppg, 5.7 rpg, 3.6 apg, 3.0 spg)
Chrissy Pavlik (Wheeling Jesuit, 5-6, G, Wadsworth, OH, 11.1 ppg, 3.3 apg, 90% FT)
Ginny Petties (Glenville State, 5-7, G, Steubenville, OH, 10.7 ppg, 4.6 rpg, 3.7 apg)
Jenni Robbins (West Liberty, 5-3, G, Geneva, NY, 11.3 ppg, 6.3 apg, 40% 3ptFG)
Kaitlyn Snyder (Fairmont State, 5-7, G, Sissonville, WV, 10.8 ppg, 3.0 rpg, 2.9 apg)
Player of the Year: Donita Adams, Glenville State
Freshman of the Year: Shalisa Hill, Davis & Elkins
Coach of the Year: Steve Tierney, West Virginia Wesleyan
WVIAC Players of the Year
2002-Tracy Wyatt (Glenville State)
2004-Tracy Wyatt (Glenville State)
2007-Rachel Redick (Glenville State)
2010-Donita Adams (Glenville State)