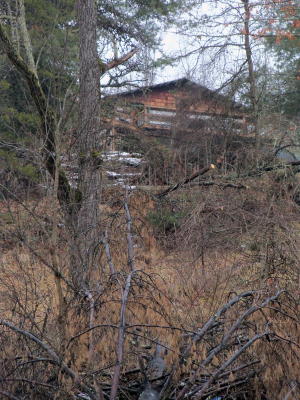 Police spend Tuesday at Denmark
residence and farm just off Beech Road
The West Virginia State Police have yet to confirm the nature of a large response made Tuesday to a Beech, Calhoun County farm.
Sgt. Michael Baylous, spokesperson for the agency, did not respond to inquiries regarding the matter.
Several State Police cruisers, the Roane County Sheriffs Department, and a state medical examiner was on-scene at the William Denmark property most of Tuesday until about 11 p.m. Tuesday night.
State Police called for a tow truck Tuesday night, removing an ATV from the property, the medical examiner's vehicle also left the area Tuesday night.
Crime scene tape across the driveway to the property was removed.
Neighbors indicated Denmark and his wife had recently moved to Roane County, and no one was living in the dwelling.
Beech is a rural area, accessed from US 33-119 at Liberty Hill, a short distance from Arnoldsburg.
See related story POLICE CORDON-OFF CALHOUN FARM - Medical Examiner On-Scene