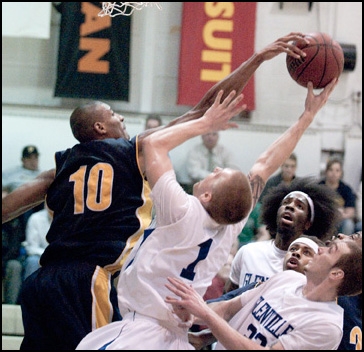 Terrell Eargle's long reach gets the attention of
every nearby player as he stuffs Nick Dent's shot.
Story and photos by Drew Moody
Despite Glenville State's 70-57 loss Monday night against Alderson-Broaddus, the highlight of the game was the Marcus Catney's scoring milestone.
Early in the second half Catney, a junior from Cleveland, Ohio, crossed the 1,000-point career scoring threshold.
This season, slightly more than a point separates the top three Pioneer scoring leaders. Catney is third averaging 13.2 points per game. He's also the second most accurate from the free-throw line connecting on 68.2-percent of his attempts.
The initial several minutes of the game was all GSC. With just over 13 minutes on the clock the Pioneers were leading 9-1.
Six minutes later A-B took the lead leaving the Pioneers back-peddling. Turnovers getting repeatedly beat on A-B fast breaks haunted GSC's efforts.
At the half A-B led by eight, 32-24.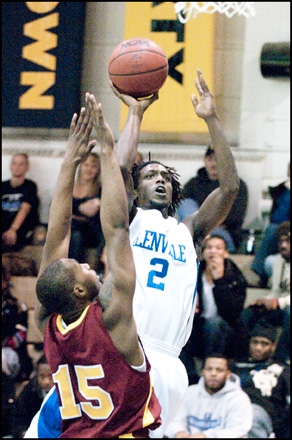 Marcus Catney, pictured during their near upset of
the University of Charleston earlier this month,
crossed the 1,000-point career scoring mark Monday night.
The Pioneers fought to stay in the game, and kept it close well into the second half. At just over 10-minutes remaining they closed the gap to within two, 46-44.
A series of costly GSC turnovers and rushed shot attempts opened the door for the Battlers to quickly secure a 9-point edge at the 7-minute mark.
The Pioneers once closed the gap to within five, but the momentum and the dwindling time left in the game were on A-B's side. The final score stood at 70-57.
Glenville's offensive effort was dimmed shooting 32-percent from the floor and hit less than one-in-five from the triple distance.
Gabe Gibbs was the only Pioneer double-figures scoring 16 with five rebounds. Catney had nine on the night.
The Pioneers record is 5-15 conf/6-19 overall. Thursday night they face Salem University at home. Game time is 7:30 p.m.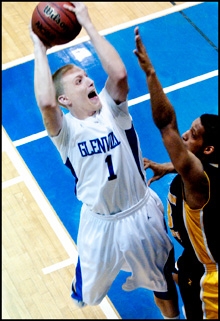 Not one to be intimidated Nick Dent
powers his way down the lane for two.