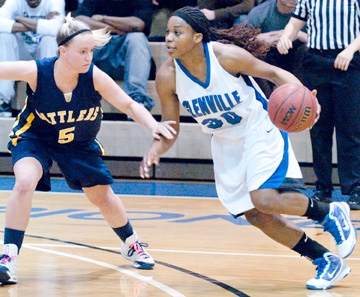 Donita Adams, ready to drive to the basket. The defense thinks she's covered...only to find Adams can do a disappearing act she's so fast.
Story and Photos by Drew Moody
Glenville State's Lady Pioneers (14-6/16-8) controlled the court Monday as their swarming full-court defensive assault forced 38 Alderson-Broaddus turnovers.
While winning by an 18-point margin, 86-68, their offensive effort suffered, hitting only 27-percent of their field goal attempts, and just 17-percent of their 3-point efforts.
It was a game marked by opposites unsuccessful at striking a balance.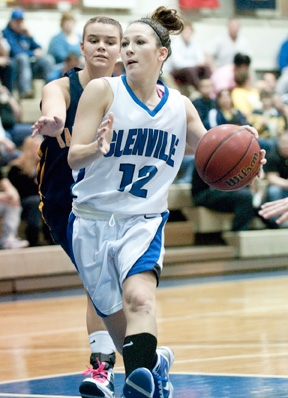 Miranda Reed at the line deciding whether to
shoot or pass. She had five assists on the night.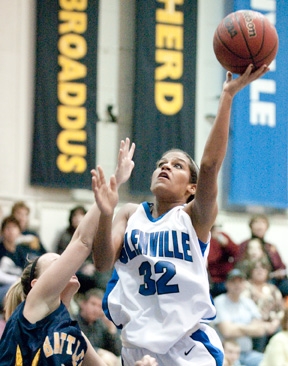 Ginny Petties rolls a perfect one-hand
jumper off the tips of her fingers.
Now ranked fourth in the conference, the Lady Pioneers last two games promise to be a twin drama - again flanked by extremes.
They'll go from hosting Salem University Thursday evening, a team braving a thus far winless season, followed by swinging into the weekend taking on top-ranked West Virginia Wesleyan Saturday afternoon.
Chances are 6-to-5, you call 'em, the outcome of Saturday's showcase contest will depend on the balance of the Lady Pioneers offensive and defensive performance.
Perhaps Confucius or the "I Ching" holds a hidden key?
They'll have home-court advantage, with the mystique of the Jesse R. Lilly Gym -- where from 1999 to 2004 their home winning streak totaled 64 wins - third longest in Division II history.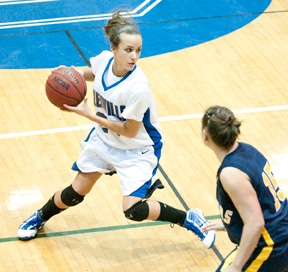 Sarah Harvey abruptly changes directions
outwitting the defense on a pass-play.
The team certainly possesses the talent and ability to beat any team in the conference.
Elsewhere in women's conference play, 12th ranked Davis and Elkins came within two points of upsetting West Virginia Wesleyan losing by one 57-56.
Second-ranked Seton Hill handed Shepherd their seventh conference loss, 69-62. And Charleston, ranked third, handily defeated Concord 75-56.
Donita Adams led GSC's scoring efforts with 16 on the night. Tiffany Huffman followed with 12. Beth Deren and Kristen Golden had 10 each. Suzi Harvey snagged 8 rebounds, while Miranda Reed had five assists on the night.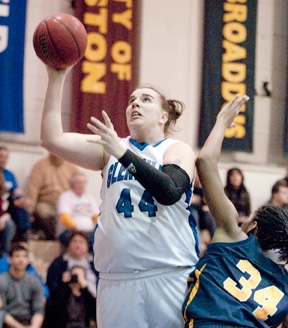 Kristen Golden outmaneuvers the A-B center,
spinning to shoot near the basket for two.