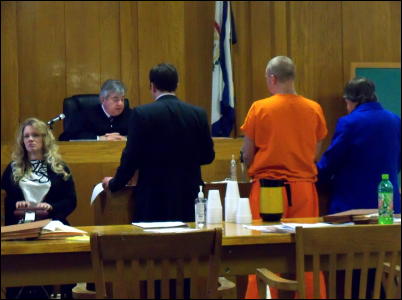 Miller makes first appearance before Judge Nibert (L-R)
Attorney Rocky Holmes, Miller, Attorney Teresa Monk
Accused murderer Kirk Allen Miller, 33, of Salem, made a first appearance yesterday before Judge David Nibert in Grantsville for the murders of Mike and Julie Flanagan last Easter weekend.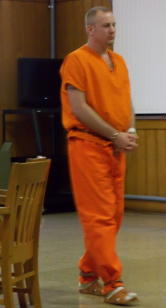 Miller, who has been indicted by a Calhoun grand jury, is set for a pre-trial hearing in May.
He is charged with two counts of murder.
Miller was represented by attorney Rocky Holmes.
State Police arrested Miller in July, 2009, saying he quickly admitted to the crime when confronted.
WV State Police, according to Metro News, say Miller "had been delivering marijuana for one of the victims, 52-year old Michael Flanagan, and claimed he was mad he had not been paid." Sources close to the investigation, indicated Miller had been on a list of suspects.
Miller's arrest in July came three months after the murders, following several suspects being interviewed, and one man being extradited from Mississippi.