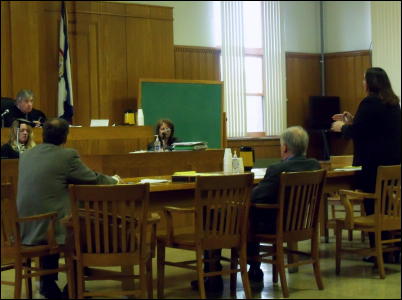 CIVIL SUIT CHANGES LOOSEN WATER PROJECT - Judge David
Nibert hears concerns from attorneys (L to R) Drew Patton,
representing engineer Jim Hildreth; Tom Whittier, representing
Mt. Zion PSD and Kelley Morgan, representing Welding Inc.
Changes in a civil suit appear to have cleared the way for Calhoun's $5.2 million, 21-mile water project to commence.
Kelley Morgan, representing Welding Inc, asked Judge David W. Nibert Monday to remove the Mt. Zion Public Service District from the civil action, leaving project engineer Jim Hildreth as the focus of the action.
Welding, Inc. and Ron Lane, Inc. have claimed Hildreth committed bid interference, causing both parties to lose the contracts. Lane's bid was $200,000 less than Bruce Allen Pipeline.
Tom Whittier, attorney for Mt. Zion PSD said, "With this obstacle removed, the USDA will review the issue and likely approve the bids approved by the district."
Tim Meeks, with the Mid-Ohio Regional Council said, "At least this is good news for people who need water."
USDA had the project on hold because of pending litigation against the Mt. Zion PSD.
The Mt. Zion PSD, after considerable controversy, approved engineer Hildreth's recommendations to give the bids to Bruce Allen Pipeline and Mid-Atlantic Storage.
Attorney Whittier said both of those companies have extended the time frames on their bids, in case the project got unstuck.
The project has faced multiple problems, from failure in 2008 to obtain right-of-ways to record keeping.
The district, following a request by the Calhoun Commission, is under investigation by the WV Public Service Commission, whose report is expected in July.
Current members of the Mt. Zion PSD Board concurred with the commission's action.