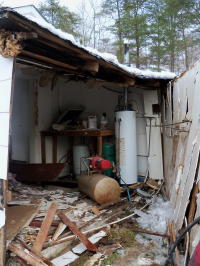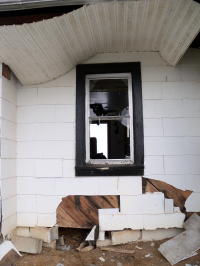 Explosion knocks out end of Hog Knob
house shattering windows and siding
A gas explosion Sunday afternoon underneath a house on Hog Knob Hill, just east of Grantsville on Rt. 5, knocked out an entire wall at one end of the dwelling, blew interior and exterior doors down, blew a hole in the ceiling, shattered windows and blew up the flooring.
The house belongs to Okey Davis.
A couple in the opposite end of the dwelling were not injured.
Occupants catch their breath following major explosion
The Grantsville VFD responded to the call at 3:39 p.m. Fire Chief Craig Gherke said the explosion "blew out any fire," the structure did not ignite.
"It was really fortunate no one was hurt," Gherke said.
Family members said it "made a really loud noise."
Calhoun EMS also responded to the incident.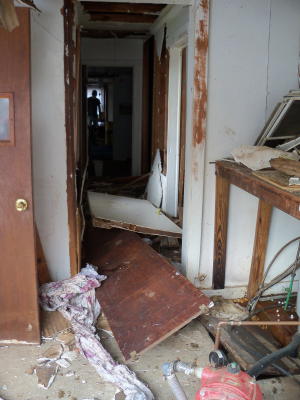 Interior and exterior doors knocked
down, floor and ceiling damaged