By Jean Simers
Heads Up Coordinator

The third 2009-2010 Saturday Fun and Learning Day sponsored by Heads Up and GEAR UP was held Saturday, February 20th at Calhoun Middle-High School with breakfast served to all participants.

The day had a Valentine in January theme with approximately 275 people in attendance. The following parents won $25.00 gift certificates from the Mt. Zion Pit Stop donated by Heads Up, Kathy Barr, Sabrina Perry, Drema Reed, and Angie Robinson. Phillip Keener won a Swiffer Cleaning System donated by GEAR UP.

Barbara Allen, from the American Red Cross, spoke to the parents about safety and being prepared. Winners of First Aid kits donated by the American Red Cross were, Steve Hosey and Terri Allen.

Melissa Keener, from Spencer Walmart was at the event where each family could register to win a Wii Sports System donated by Walmart.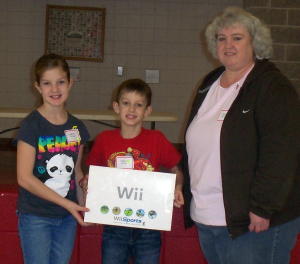 Carissa and Jordan Yoak winners of a Wii Sports
System shown with Melissa Keener of the Spencer Walmart
Lunch was catered by the Middle School Athletic Boosters which included meat loaf, mashed potatoes, gravy, green beans, cole slaw, roll and cake.
The next Saturday Fun and Learning Day will be March 27th and will include an Easter egg hunt along with informational booths and games.
For more information on Saturday Fun & Learning Day contact Jean Simers, Heads Up Coordinator 304-354-7177.