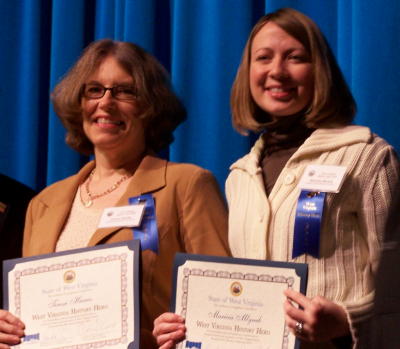 Teresa Harris (left) and Maricia Mlynek
Two Calhoun women were recognized Thursday as "History Heroes," during the 14th West Virginia History Day in Charleston.
"History Hero" awards are presented to people who have made significant grass-roots contributions to the preservation of local or regional history.
Teresa Harris and Maricia Mlynek work as a Calhoun team to promote the Calhoun County Historical Society.
They plan imaginative fundraising activities to support projects, recruit volunteers, facilitate cooperation with other community groups, and donate countless hours working for the society's benefit.
They are currently working to restore the interior of the Stump Hotel and are assisting in planning the society's second Civil War re-enactment.
Harris and Mlynek are "idea people," a driving force for progress who see things that need to be done, develop plans, and organize workers. In addition, Harris has been society secretary for 3 years, and Mlynek has been in charge of publicity for 4 years.
They were nominated by Calhoun County Historical Society.
AREA HISTORY HEROES
David Howard Corcoran, Sr. (Gilmer County) has been vice president of the Gilmer County Historical Society since 2004, program chair since 2006, and publicity chair since 1995.
He helped organize the society's 50th-anniversary celebration in 2007 and participates at Gilmer County's annual birthday celebration at the courthouse. He writes articles about the society for the local newspapers and also provides the press with a weekly list of historical events.
In the 1970s, Corcoran was the first full-time executive director of the Pearl S. Buck Birthplace Foundation and was responsible for the Hillsboro house restoration and establishment as a museum. He was nominated by Gilmer County Historical Society.
Carol Cronin (Roane County) is an active participant in projects seeking to preserve Roane County history, disseminating history through her collections of photos and printed media.
She has contributed photos for display at the city municipal building in Spencer, for Heritage Day, and at the genealogy fair and other events. Since 2002, she has been editor and publisher of the Roane County Historical Society newsletter.
She supplied research and materials for the Arcadia series book on Roane County and Spencer's sesquicentennial calendar, both 2008, and also has compiled photographs and text for histories of Zion Hill Baptist Church and cemetery and Elana School. She was nominated by Roane County Historical Society.
Norma Davis (Ritchie County) was secretary of the Ritchie County Historical Society for 4 years and currently is treasurer. She organizes all fundraising events and operates the concession stand at the Pennsboro B&O Depot.
Davis cleans and organizes rooms at the Old Stone House Museum, including the genealogy library, where she catalogs books. She responds to genealogy queries and has contributed information to the society's book on Ritchie County cemeteries.
At present, Davis is the contact person for a massive project involving repairs to the museum and depot and development of a trailhead at the depot. She was nominated by Ritchie County Historical Society.