By Russ Richardson, Forester

The winter of 2010 will go down as one of the snowiest periods in recent memory but it may also be remembered as the winter without mud. With the almost continuous snow cover we've had during the past couple months the supply of feed available for deer to eat is getting in very short supply and starvation appears to be possible for many smaller and weaker individuals.

Most local people can still remember how poor the mast crop was last fall. The DNR said it was one of the worst mast crops in forty years and the lack of nuts and acorns started deer browsing brush much earlier than usual.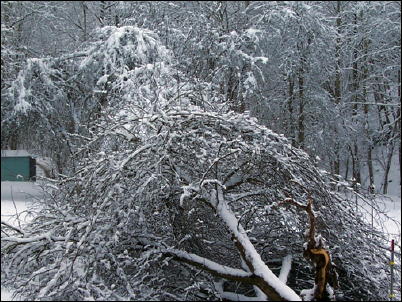 Apple trees that have been flattened by the heavy snow of the early December storm will be devoured by deer if they are given the chance. The tree, shown above, was killed in the December storm and the wood cleaned up for firewood. The limbs were left for the deer which ate every bud, twig and branch tip smaller than the size of a pencil.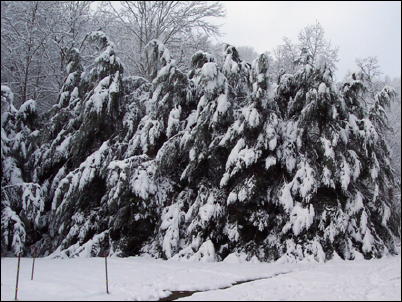 Since the December snow storm, deer have eaten all the branches on the hemlock trees, seen above, that are closer than six feet from the ground. Most unprotected plantings are in severe danger of being heavily browsed if they are remotely tasty to deer.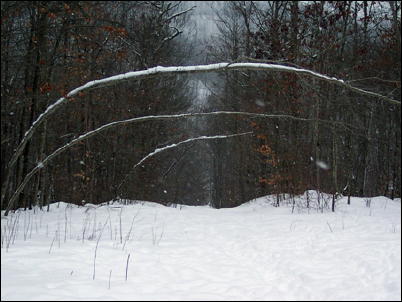 Throughout Calhoun County and the local region there are thousands of trees that were partially toppled by the heavy snow in early December. The trees occur along the edges of meadows and woods roads, as seen above. A carefully placed blow with a sharp ax or machete can put some very nutritious feed within easy reach of hungry deer.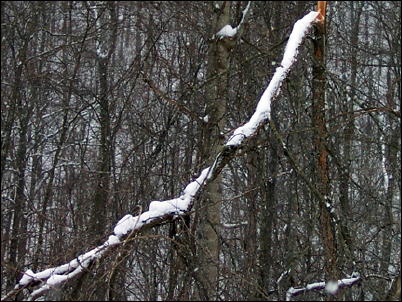 Not all types of trees have buds or twigs that are sought after or eaten by deer. Frequently, grapevine covered black cherry trees broke down the heavy snow but deer will not eat cherry buds or twigs.
Smaller forest trees that can be safely felled will benefit deer. The horizontal tree, in the above image, is a six inch diameter sugar maple that when dropped to the ground, will produce a thirty foot long top the deer will usually strip bare in one night.
During the winter months deer normally eat woody stems and tips of small trees. In past years when logging operations were common in Calhoun County woodlots, deer would concentrate around the easy to access food that was a byproduct of the logging. With so little logging going on at this time, cutting some trees for the deer to eat might be enjoyable and worthwhile.