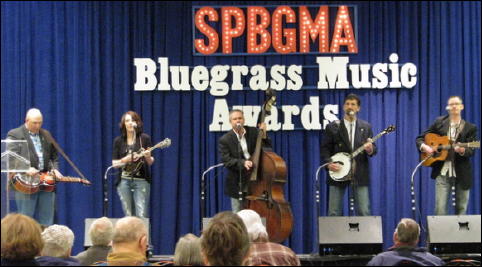 No One You Know is West Virginia's foremost up-and-coming bluegrass band comprised of five seasoned musicians from all over West Virginia
Nashville, TN - The rocket ride to the top of bluegrass' best continues for West Virginia band, No One You Know, consisting of Don Anderson, Bruce Jones, Ramie Bennett, Lance Gainer and Rachel Burge.
The band has appeared locally at the Bear Fork Trading Post.
The band walked away with the second place prize at the Society for the Preservation of Bluegrass Music of America [SPBGMA] Bluegrass Music Awards and 27th National Competition, February 4-7 in Nashville.
Competition started with 20 bands in the first round, and continued with two more elimination rounds. No One You Know placed in the top two positions in all three rounds. The band performed some original songs from their debut album, "She Waits," along with two traditional bluegrass tunes.
Two members of the band, Don Anderson and Bruce Jones, participated in this same competition in its third year, 1986. The competition is now in its 27th year.
It's just more proof that N1YK is on the rise after the release of their independent album, "She Waits." The album which has sold out its first printing is available now at the bands website nooneyouknowband.com