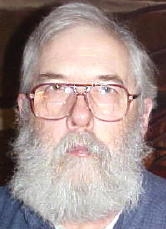 By Alvin Engelke
alvinengelke@hotmail.com

The Creston area is again receiving more snow along with cold weather. While government programs continue that are based on the premise that "global warming" is truth, even the ringleader of the global warming gang in England, 'perfesser' Phil Jones of East Anglia University now admits that there has been no warming since 1995 and that back when the Vikings kept cattle in Greenland (the medieval warm period) it was warmer than it is now. That warming likely was caused by "all the reflection off Hagar's shield and sword".

A local worker at the Hino plant noted that lots of buyers are ordering the 2010 models since the new models must have, by federal government mandates, additional parts "to prevent global warming" that add $6,000 to the cost of each new vehicle. One might call that 'hope & change'.

The district bridge crew has been working on the Route 5 bridge at Creston.

Rev. Carlos Nutter filled his regular appointment at the Burning Springs M. E. church.

One fellow was moving a round baler the other day and someone asked if he planned to bale up some of the snow to 'use as feed'.

Alvin & Nancy Engelke attended the Farm Bureau training at Jackson's Mill Friday & Saturday. Eleanor Porter, a state FFA leader from Roane County talked about the problems folks in different generations have communicating & provided some worthwhile assistance.

Ray Starling, Clay County native Dr. Roger Hanshaw & Matt Scramlin laid out many excellent points and Jodi Smith, who now works for Witten Farms explained how to use the internet and facebook to keep on top of things in and impacting agriculture.

One of the best examples she gave was the response of a beef farmer to the news that the Yellowtail Wine Company gave $100,000 to HSUS (Humane Society of United States) which has explicit plans to eliminate ALL animal agriculture in America. [This outfit is the one that shows the pictures on the tee vee and is not the local humane society.] The beef farmer's reply showed him pouring out the contents of his last Yellowtail bottle along with his giving the reason why. Almost immediately many merchants pulled the brand from their shelves. Thousands have now viewed the video.

There were many young farm folks there including one comely lass from Greenbrier County who has her own bear dogs and hunts bear every season. Any woman who hunts bear, has her own dogs, etc. no doubt can clean fish, dress rabbits & squirrels, bake biscuits & cornbread with the best of them and might even pack in the firewood. Fellers looking for a good woman would do well to check out the collegiate Farm Bureau up at Morgantown.

The price of February natural gas on the Dominion system will be $5.57/dekatherm (mmbtu) while the price of local Penn grade crude is $67/bbl.