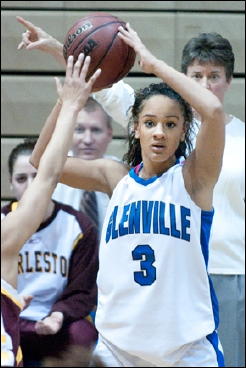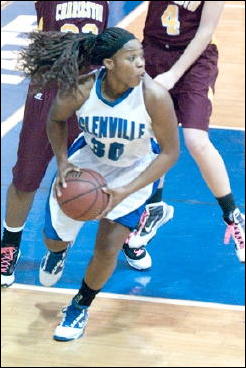 Autumn Davis (left) rallied the Lady Pioneers twice with
her long-range dead aim. Her shooting nearly closed the gap
between GSC and the University of Charleston. Davis ranks 16th
nationally in her average number of successful three-point shots,
averaging 3 per game. This is Davis' first year as a Lady Pioneer.
Donita Adams (right) snags an offensive rebound near the
corner, then immediately moves the ball to the outside as
she looks for an open teammate during Saturday night's contest.
Story and Photos by Drew Moody
Glenville State College's Lady Pioneers succumbed to the University of Charleston Saturday 99-92. It's one game where the seven-point difference utterly fails to reflect or reveal the gritty details of the game.
With just under five minutes remaining in the first half the Lady Pioneers were down by one-point, 38-37. Play was evenly matched for the initial 15 minutes.
By the half, however, the Lady Golden Eagles carved out a nine-point lead, dominating the remainder of the game.
Two elements in UC's favor was a height advantage plus a keen sense of timing - speeding up and slowing down the game as needed as their players focused on high percentage shots.
On the other hand, the bottom fell out of the Glenville's statistics.
Overall shooting - 42 of 188 total shots from the floor
It may be the new unofficial record for "most missed shots in a single game."
The Lady Pioneers made more than twice as many field goal attempts as their competitor; and more than triple UC's 3-point attempts.
Shooting under 25-percent GSC scored on just 30 field-goals and 12 triples.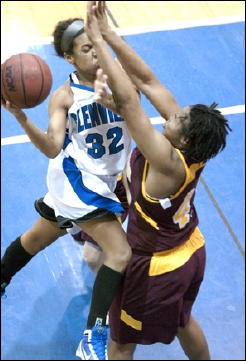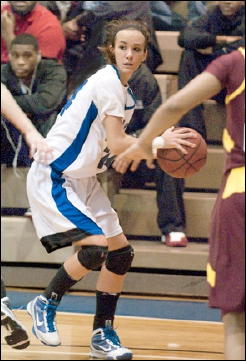 Freshman guard Ginny Petties (left) is making a name for
herself in Glenville and the region. Here, she cuts across
the lane driving to the basket and drawing the foul. Petties
ranks #21 nationally shooting 42.4 percent from 3-point range.
Sarah Harvey (right) surveys the court deciding whether
she wants to move with the ball or find an open teammate.
Harvey's had a strong season offensively and defensively.
While it may be difficult to imagine, this means every 21-seconds, on average, one of the Lady Pioneers threw the ball in the direction of the basket, or took a shot, depending on how you look at it.
And, as if that wasn't enough, while all this shooting was going on the team managed to commit a foul every 74-seconds. Dodge ball anyone?
But wait...there's two sides to every coin.
Statistics can be as misleading as Wall Street profits
On the other hand, it stands to reason the more you shoot the greater chance you'll score. Think of it like using a shotgun for squirrel hunting instead of a 22-cal. rifle.
The offense may be a mirror of Glenville's preferred defense. That particular nightmare (for the opponent) is a kick-out-the-jams Lady Pioneer version of EXTREME basketball.
The consequence to their opponents can be devastating at times analogous to an attack by a swarm of killer bees.
This season that defensive attack has been so merciless a few of their opponents have suffered an on-court "terminal breakdown" paralyzing all efforts at both ends of the court. At least two teams were so momentarily frustrated and overwhelmed they may not have known whether they were playing basketball or soccer.
Some impressive numbers - for the record
Here's some Lady Pioneers current statistical highlights as of February 7, 2010, the most recent date included on the NCAA Division II website.
These are accomplishments for the 2009-2010 season under the guidance of new head coach Bunky Harkleroad. (Team numbers include the top 300-teams; while individual numbers rank the top 500 players.)
(1) The Lady Pioneers are the #1 scoring NCAA Division II team in the U.S.
(2) The team ranks #1 for most successful 3-point shots in Division II.
(3) They're ranked #2 in turnover margin.
(4) The Lady Pioneers are also ranked #5 in assists per game.
(5) Donita Adams is ranked the #2 scorer in the U.S., averaging 22.9 points.
(6) Adams also ranks #21 from the charity line shooting 86.4-percent.
(7) Autumn Davis ranks #16 in 3-point field goals per game, averaging 3.
(8) Ginnie Petties ranks #12 in assist-turnover ratios averaging 2.2 per game.
(9) Petties ranks #21 in 3-point shooting accuracy, averaging 42.4-percent.
Haunting patterns as the season draws to a close
A typical Lady Pioneer game night features initial offensive and defensive domination. For example, at the start of one recent game Glenville forced a turnover so quickly following the tip-off the time-keeper momentarily missed starting the scoreboard clock.
It's not uncommon for GSC to build significant leads only to conclude the contest with a neck-and-neck, sometimes panicked sudden death battle in the final minutes.
The opponents creating the gravest headaches for the Lady Pioneers are taller teams, and particularly teams with superior ball-handling skills who mix up the pace of play.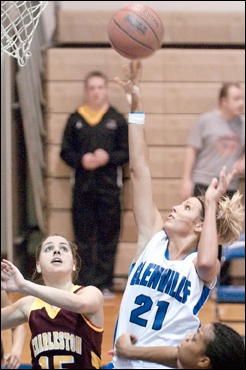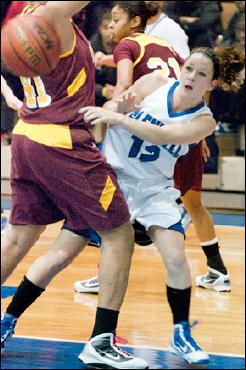 Beth Deren (left) also a new player this season, is a
5'10" guard who does it all. From downtown, uptown, or
driving down the lane she can score from virtually anywhere.
She's agile, tough and shows mature basketball sense.
Miranda Reed (right) is one of the team's anchors. She's a
dependable team player who'll go up against anyone on the
court, no matter how tall. Here, Reed is forced to lean
around a UC defender as she whizzes a pass across court.
The University of Charleston had an overall height advantage, plus their players were equally confident running with the ball or spreading out the offense and effectively waiting for "high-percentage" shots. Saturday night UC shot almost 45-percent from the floor while hitting 42-percent of the 3-point attempts.
No doubt, the Lady Pioneers are tough. But perhaps collectively they don't have the stamina to keep up a dead-run pace at both ends of the court for an entire game....even with five-at-a-time substitutions.
A two-trick bag is only slightly better than a one-trick pony
The Lady Pioneers have a full-court press that would make George W. Bush wistfully remember the "Shock and Awe" campaign signaling the Iraq invasion in March of 2003.
The other big gun? Virtually any member of the team is capable of hitting a long bomb for three.
Then what?
Problems arise when the swarming defensive fails to make opponents to "cry uncle." Keeping up their sometimes turbo pace be exhausting mentally and physically. In addition, the team as a whole tends to become so fixated on the "press" there's a simultaneous failure to cover under their opponents basket on a fast break.
If they're in the lead, GSC women are at the top of their game. However, if the team is challenged forcing a come-from-behind effort to secure a win the price is poise and making fluid transitions to control the pace of play.
Prior to tournament time when, on any average Tuesday, they could emerge victorious against any WVIAC opponent, some new tricks for their toughest competitors may be useful. One option might be utilizing the same tactics UC employed to successfully overpower Saturday's game - spreading out the offense while slowing down the tempo.
And then, mixing up play like a pitcher throwing a "change up" or off-speed pitch.
Two special players and the coach
Donita Adams and Kristen Golden have come into their own this year. Golden was likely the most improved player last year, and this year she's on-track to successfully 'double-down' her previous efforts.
Adams literally and figuratively "owns" the court. She's agile, with lightning reflexes, is as fast as a gazelle and can move with the ball without the "testy issue" of dribbling slowing her down. While a couple of UC players were on their game enough to slow her down Saturday night, usually opponents assume she's going to get her 20, 30 or 40-points and concentrate disrupting GSC's scoring machine by focusing efforts elsewhere.
Adams' position and style of play naturally draws more audience attention. Golden's accomplishments, in contrast, are in the tough and crowded center lane of the court.
True enough, Golden doesn't secure double-digit rebound numbers with regularity. But, if she can't secure the ball herself, she'll often successfully tap it to a teammate on the perimeter. That new statistical category could be called a "rebound assist."
In any case Golden won't be pushed around. Give her just a step on a defender within a 10-foot arc of the basket and she's a crack-shot. This season the team confidently relies on her more and more frequently forcing the defense to collapse to cover her, which consequently opens up outside shooting opportunities.
It goes without saying this year's new squad members have provided a significant boost. And veteran players Miranda Reed, Sarah Harvey, Suzi Harvey and Kim Stephens have blossomed over the past year as well.
It may well have been easier to secure a bet it would rain in the parts of South America's Atacoma desert that hasn't seen rainfall for over 400-years than to believe the Lady Pioneers would be WVIAC title contenders this year.
Yet, here we are.
Coach Harkleroad, the players, cheerleaders, pep band, athletic department and their loyal fans deserve all the blame I'm sure.
First round WVIAC tournament action begins in about two weeks.
Following last night's (Feb. 15) game against Concord in Athens, WV, four of the next five Lady Pioneer games will be at home in the Lilly gymnasium.
EDITORS NOTE: GSC's Lady Pioneers defeated Concord University Monday by a slim margin 111-106. Donita Adams led the team's scoring effort with 33 points.
The Pioneer men didn't fare so well experiencing a stinging defeat 102-84.
Thursday evening both teams face Bluefield State. Game-time is 5:30 p.m. for the women, 7:30 p.m. for the men.