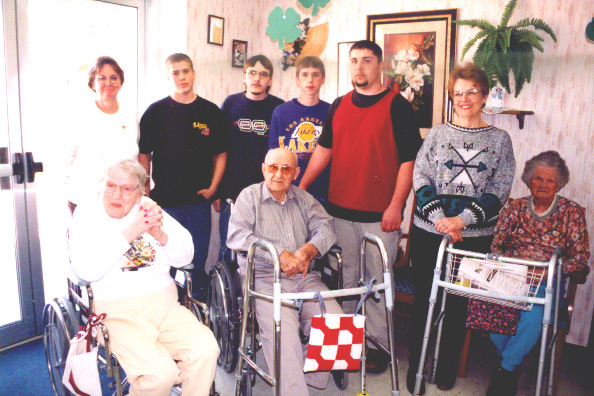 Seated (L to R) Stella Miller, Jake Kerby and Gwen Haught
Standing (L to R) Patty Cain, Dusty Peters, Jason Starcher,
Scott Hartshorn, Kenneth Peth and Martha Harris
Calhoun-Gilmer Career Center students presented walker "Tote bags" to Minnie Hamilton Nursing Home residents on march 6, 2002.
The tote bags were made with patchwork and foundation piecing quilt designs were the result of research and training by Mrs. Cain and Mrs. Harris. As a lunch time learners activity the students were responsible for cutting out and completing a tote bag.
Mts. Patty Cain, program director, said her students wanted to deliver the totes and spend time with the residents. After the visitation the students were treated to a delicious lunch at the Koffee Kup.
Mrs. Cain, Mrs. Harris and the ALC Lunchtime Learners express their appreciation to Susan Hall, Mike Kubina and Sue Williams for their contributions and talent.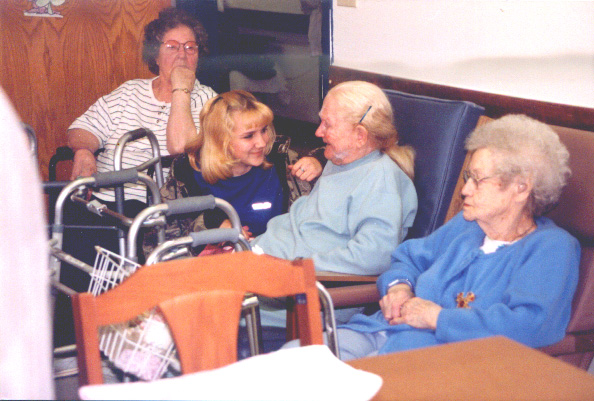 (L to R) Eleanor Welch, Alicia Jones, Zelda Headly and Gay Rogers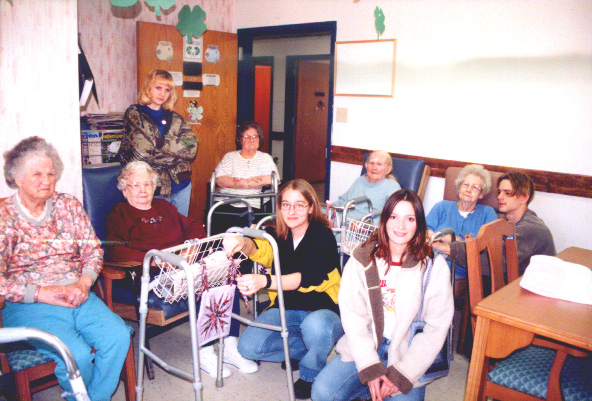 Rear (L to R) Gwen Haught, Hattie Shaffer,
(standing) Alicia Jones, Eleanor Welch, Zelda Headly and Gay Rogers
Kneeling (L to R) Heather Jefferies, Rochelle Reddick and Michael Wease