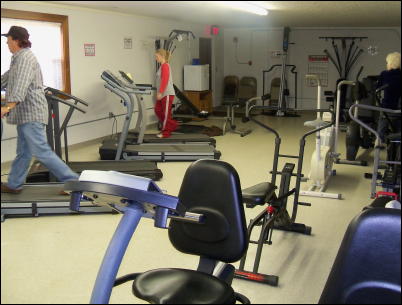 Sr. Center has wide array of equipment and services
The Calhoun County Committee on Aging (CCCOA) is equipped with a beautiful, well supplied fitness room.
The fitness room will be open to the public on Monday, Tuesday and Thursday evenings beginning March 8th from 4:30 until 5:30 p.m.
A membership fee of $15 per month or $2 per session will charged for use of the equipment. For more information please call the center at 304-354-7017.
The room is on the first floor basement of the main facility in Grantsville.
Multiple treadmills, incumbent bikes, ellipticals, Bow-flex and many other exercise pieces fill the the large gym.
Assistant Director, Brenda McBride says there is "cable TV, an audio system, rest-rooms, central heating and air conditioning, aerobic pad with weights and balls, a pool table, bowling, basketball hoop, putting green, and even instructional videos.
"We should mention the gym has a big screen TV with a Wii system, and nearby is Internet access for our seniors," she said.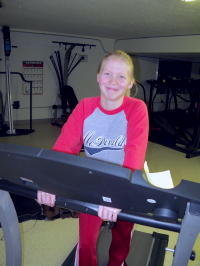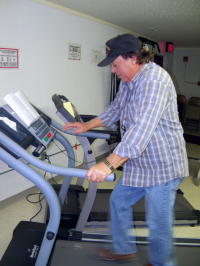 Easy access for area residents
The gym is open during regular business hours, 7:30 a.m. to 3:30 p.m.
Since the Nutrition Site closes at 2 p.m., users need to access the elevator instead of the stairs to get to the basement, if they arrive after lunch.
The West Fork site has a small fitness room that is open on Monday, Tuesday and Thursday from 8 a.m to 2 p.m.
Seniors, age 60 and over are welcome to use the facility free of charge.
Guests can come with a senior to exercise.
"We just ask that there is a 50/50 ratio of seniors to guests," McBride said.
"We're proud to let you know about some of the wonderful services offered at your local senior center. We are here for you. The doors are open," she concluded.