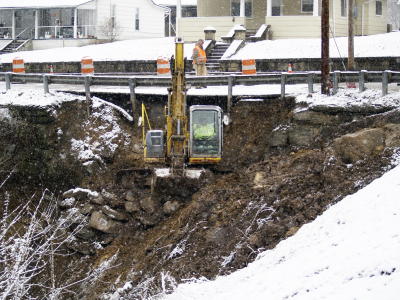 A highway slip caused a water main to break on
Rt. 16 (Town Hill) in Grantsville Monday afternoon,
disrupting water service to Minnie Hamilton Health System
Submitted by Jim Sullivan
So what do you do when you have a hospital full of sick patients and all of sudden, the water goes out? You pull together and make the very best of the situation.
The staff at Minnie Hamilton Health System was called to action this week when an unexpected line break lead to no water in the facility.
After being informed it would likely be a couple of days before the water would be restored, the maintenance and housekeeping staff immediately took proactive measures to ensure patient and facility needs were being met.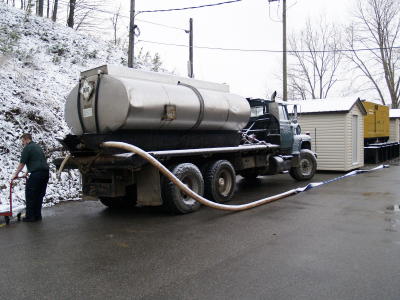 Tanker truck helps with water supply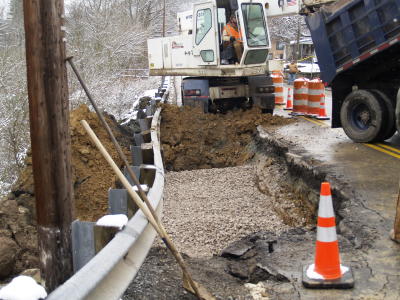 Department of Highways and Grantsville
Water Department quickly repair damage
Working with the Grantsville Water Department and Dick Ullum, a water tanker truck was borrowed and set up behind the building to allow for limited system flushing. Laundry was taken to the Laundromat. The Department of Highways and the Grantsville Water Department worked quickly to repair the damage, finishing ahead of schedule. Water service was returned Tuesday afternoon.
Minnie Hamilton would like to thank all those who worked together during this situation including our staff, Dave Johnson and Eric Webb of the Grantsville Water Department, Denzil Dye for making the laundry mat available after regular business hours, Dave Underwood and crew from the regional office of the WV Department of Highways, Dick Ullum for providing the tanker truck and Kathy Wood from the Calhoun Office of Emergency Services.