By Bob Weaver

Spencer police have arrested a Mason County man for the murder of Spencer resident Kenneth Boggs, 44.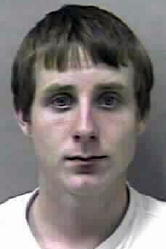 Greg D. Leach, 20 (pictured left) of Letart is in South Central Regional Jail, charged with 1st degree murder.
Boggs' body was discovered on the floor of his apartment on Locust Avenue in Spencer about 9 a.m. January 20th, following what the criminal complaint says was a severe beating.
An autopsy performed by state medical examiner Dr. James Kaplan said Boggs suffered a broken neck, multiple contusions to the head, lacerations to the face, fractured ribs and bruising to the groin area.
At least three witnesses to the beating supported the medical examiner's report.
Witnesses told authorities, according to the criminal complaint, that Boggs was knocked into an entertainment/TV stand, stripped naked by Leach, who kicked him in the groin.
One witness, Dustin Brumfield, told police that Leach "punched Kenny Boggs in the throat." Boggs then fell to the floor gasping for air, said the complaint.
Witness Alica Spears, told Spencer police that she "witnessed Greg Leach perform multiple beating(s)" on Boggs, stating he threw "cold water on Kenny Boggs...beating him again."
Another witness, Jessica Tyo, said Leach knocked Boggs into an entertainment stand and kicked him in the groin.
A witness said Leach at one time was holding Boggs and asked the question, "Trenton did this, didn't he?," after which the witness said Boggs replied "No!" Leach then struck him with a backhand across the face, according to the complaint.
Boggs' funeral was held Sunday in Spencer.