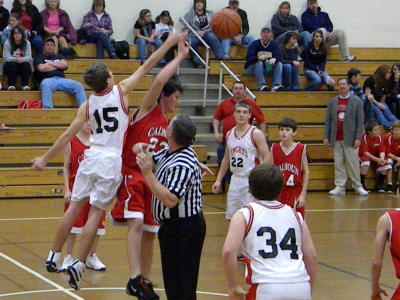 Mason Sheldon wins jump ball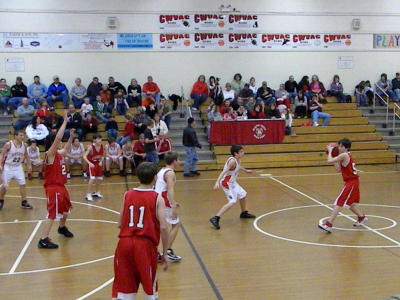 Logan Moore setting up the offense
By Mike Sims
Calhoun Middle School Boys basketball team traveled to Flatwoods to take on the Braxton County Knights Friday.
In the eighth grade game Calhoun got off to a slow start, scoring only one point in the first period. In the second period Calhoun battled back and out scored Braxton 10 to 5 to tie the game at half time.
In the second half Braxton came out in a full court press and forced Calhoun into several turnovers, which turned into easy points for the home team, and allowed them to jump out to an 8 point lead at the end of the third period.
Calhoun battled back in the fourth, on the play of Logan Moore, Ryan Slider, Mason Sheldon, and Kameron Carder all scoring for the Red Devils and cutting into the Braxton lead.
In the end Braxton's Michael Nibert hit two 3 pointers and the Knights were able to pull out a 10 point win 40 to 30.
Scoring for the Red Devils were, Mason Sheldon 6 points, Logan Moore 7 points, Kameron Carder 2 points, Ryan Slider 9 points and Tyler Gerwig 6 points. Doug Parsons played some outstanding defense but did not score.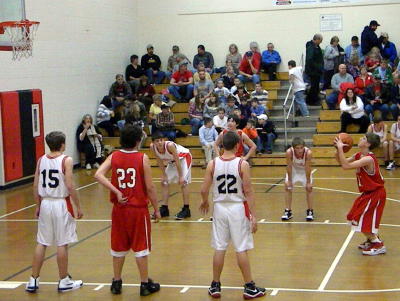 Ryan Slider shooting free throws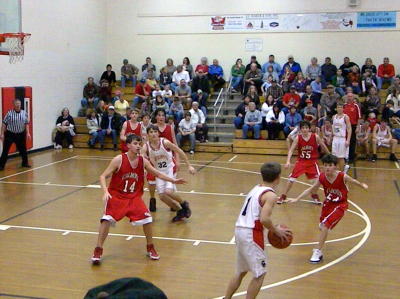 Kameron Carder, Tyler Gerwig play defense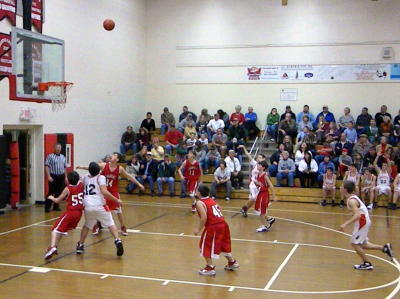 Doug Parsons boxes out for rebound
In the seventh grade game Calhoun jumped out to an 8 to 5 lead at the end of the first period.
In the second period the Red Devils turned up the defense and with the offensive play Tyler Sims, Luke Wilson, and Tyler Gerwig, outscored Braxton 11 to 0, to take a 19 to 5 lead at the half.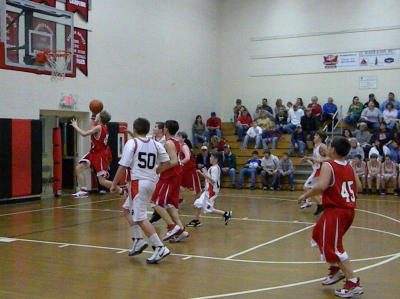 Kirkland Allen flying in for a lay-up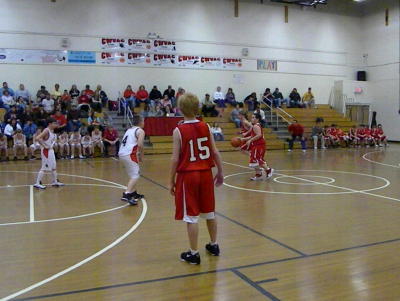 Tyler Sims and Lucas Wilson on offense
In the second half Calhoun's coaches were able to rotate players in and out of the game allowing all to play as the Red Devils went on to post a 12 point win 35 to 23.
Scoring for the Red Devils were, Tyler Sims 6 points, Lucas Wilson 6 points, Tyler Gerwig 13 points, Kirkland Allen 2 points, Tyler Tanner 4 points, Eythan Miller 2 points and Austin Bailey 2 points. Sam Brady, William Baker, Luke Sheldon, Devon McKown, Riley Cain, and Cole Boatright all played but didn't score.