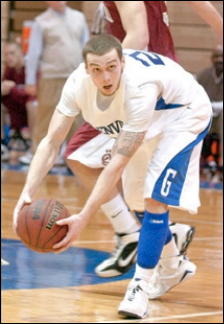 High-scoring Aaron Dobson, with 29
on the night, fields a low pass.
Story and Photos by Drew Moody
Riding Coney Island's Cyclone roller coaster couldn't be much wilder than the first half of the GSC - Concord late game Thursday night at home.
Within two minutes the Pioneers secured a 10-0 lead. By the end of the third minute of play Aaron Dobson (23) hit three consecutive triples and was well on his way bucketing a high score of 29.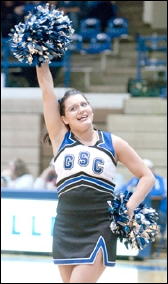 Glenville State College has a lot to celebrate. This cheerleader's face tells it all. In their last two home contests both men and women have been victorious.
Midway through the half the Pioneers had a 14-6 scoring run and with just over 5-minutes before the break led 33-19.
A familiar story.
A lightning strike later and Concord was within a short double-deuce distance of a tie game.
Maybe there's a Muhammad Ali 'Rope-a-Dope' strategy at play?
Whatever the strategy is, its working for the Pioneers. The team's talent pool and coaching staff is much stronger than their record of 4-9 overall (3-5 WVIAC) suggests.
They're fast, work well together, and most of the team seems to be potentially deadly from three-point range. Another noticeable shared trait - they never give in, and never give up.
As the second half got underway Concord took a quick lead. They battled back and forth until about mid-way when GSC took over and secured the victory.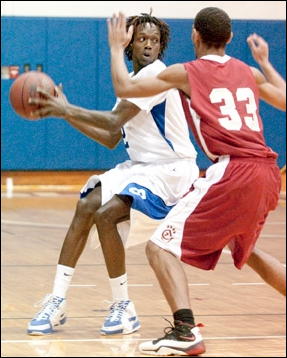 Under pressure, Marcus Catney looks for a
down-court pass as GSC slows the pace of play.
Four Pioneers were in double-figure scoring. In addition to Dobson's 29, all hustle Marcus Catney (02) had 17 points, 5 rebounds and 3 assists. Ryan Burts (04) scored 10. A normally hot Nick Dent (01) was held to 11 points.
The Pioneers and Lady Pioneers travel to Shepherd University, Shepherdstown tomorrow (Jan. 23). According the Shepherd University website, the men and women's games are in reverse order - men playing first at 2 p.m.
The Lady Pioneer game is set to begin at 4 p.m.