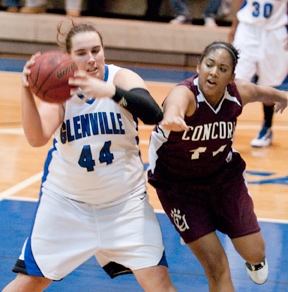 Kristen Golden, (6-2 JR) of Weston outfoxes the Concord
center, then took the pass, spun and hit for two. Golden
is having a strong season at both ends of the court.
Story and Photos by Drew Moody
Defensive pressure and sheer hustle simply overwhelmed Concord University as Glenville State College's Lady Pioneers dominated both ends of the court Thursday night at home.
The 88-69 victory returns them to first place in the WVIAC standings, according the WVIAC website.
GSC's defense forced a turnover seconds after the tip-off; one of 30 during the contest.
Three minutes into the contest the Lady Pioneers had control of the game and between the 14 and 6-minute marks in the first half they outscored Concord 21-6.
GSC doubled Concord's score 48-24 at the 3:25 mark.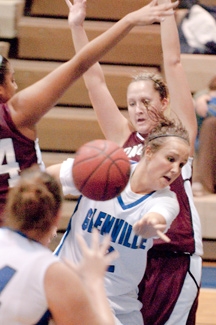 Kim Stephens, (5-11 JR), of Parkersburg fires a
pass across court Thursday night during one of her
best games of the season. She was fierce inside
and hot from 3-point range, scoring 15 on the night.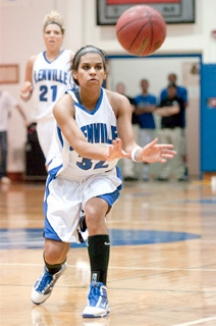 Ginny Petties, a freshman guard from
Steubenville, OH, fires a pass to the outside
during second half play Thursday night.
It was a picture-perfect victory and perhaps the best overall game for the Lady Pioneers in two years. The team effort was balanced with Donita Adams, Kim Stephens and Beth Deren sharing top-scoring efforts with 15 each. Five team-members hit double-figures.
Even a casual observer would concede it's a much-changed team. New head-coach Bunky Harkleroad figures prominently into the reasons why.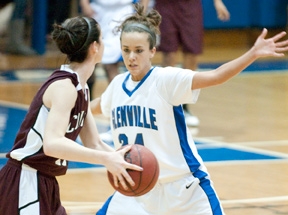 Sarah Harvey, (5-8 JR) also of Parkersburg was key to the
swarming and overpowering defensive pressure GSC put on Concord.
Miranda Reed plows down the lane on a formula drive
Thursday. She's the shortest Lady Pioneer, but
pound-for-pound one of the strongest and quickest. Reed
gives opponents headaches whether on offense or defense.
The Lady Pioneers, once again, have the attention of the conference and beyond...plus are the top-scoring women's NCAA Division II team in the U.S.
Here's part of what a Concord posted on their website:
"Much has been made of the "The System" run by Glenville State's first-year women's basketball coach Bunky Harkleroad.
"The System" is based on a frantic pace, quick shots, an aggressive, physical full-court pressure defense and very frequent five-at-a-time substitutions. With it, the Lady Pioneers lead the nation in scoring and have emerged as one of the title contenders in the WVIAC."
The Lady Pioneers hit the road for two games and won't play on home turf again until the January 30 Pitt-Johnson match.
This Saturday, January 23, they travel to Shepherdstown for a 4:00 p.m. game against Shepherd University. On the 28th they head to Philippi to tangle with A-B at 5:15 p.m.