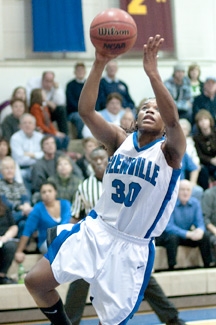 Donita Adams challenged Seton Hill at both
ends of the court scoring 32 with 11 rebounds.
Story and Photos by Drew Moody
Paced by Donita Adams 32 points and 11 rebounds the Lady Pioneers after Seton Hill dominated most of the first half.
Glenville State took an early lead, only to find the team being haunted by familiar weaknesses including: failing to cover the opponents basket on full court presses, bad passes, and rushed shots without running plays.
Down by 11 near the 12-minute mark, back-to-back 3 pointers by Kim Stephens (2) and Sarah Harvey (24) sparked the team putting them within striking distance again.
By sheer will of effort the Lady Pioneers were within four with 8-minutes left in the first half.
Adams (32) challenging the lane and her follow up rebounding and scoring kept GSC in the game.
Near the 4-minute mark Tiffany Huffman (4) bought the Lady Pioneers to within a pair. Maintaining the pressure, Glenville tied the lead at 50 with 1:50 left in the half.
By the buzzer GSC had the lead 55-52.
Adams (30) set the court ablaze in the first minutes of the second half scoring a pair of triples followed by an inside drive.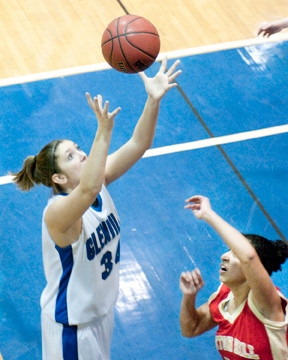 Suzi Harvey a 5-11 junior of Sissonville,
West Virginia snags an offensive rebound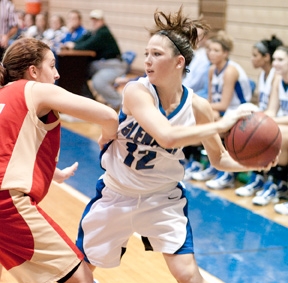 Miranda Reed's defensive pressure and quick hands netted
her several steals with follow-up scoring drives. Reed's
court presence is a welcome return after sitting out a year.
Ginnie Petties (32) and Suzi Harvey (34) chipped in to help the scoring pace while Miranda Reed had a stellar defensive effort.
Before the mid-mark of the second period the Lady Pioneers were up by 10, 75-65.
The Griffins quickly came back to within two, looking at times as if GSC had lost its composure with forced shots and turnovers.
With just over 4-minutes left the Lady Pioneers were up by 9 again, 96-87, closing out the contest 105-93.
The Lady Pioneers take on Shepherd Thursday evening at home; tip off time is 5:30 p.m.
The Lady Pioneers at 6-2 and 8-4 overall are ranked second in the WVIAC; Shepherd at 6-2 and 7-5 overall hold the third spot.