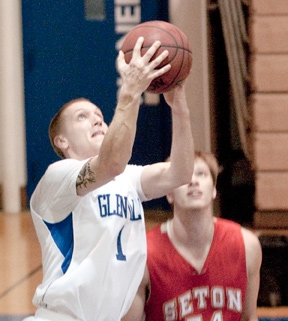 Nick Dent (1) circles under the basket coming up for
two of his 25 on the night, leading all scorers. He
also grabbed 8-rebounds and had 3 assists on the night.
Story and Photos by Drew Moody
Glenville State jumped out to an early lead outscoring the Griffins by 15-points half way through the first half in Saturday's game. With 10:48 left in the period the score stood at 21-6.
Nick Dent led all scorers nailing 25-points for GSC.
A typically very tough Seton Hill couldn't find the basket early on.
The score doesn't adequately tell the tale of how close the Pioneers came to blowing what was a blow-out early on.
The Pioneers led by 18 twice in the first half, ending that stanza 40-27.
The Griffins out-shot and outscored GSC in the second period as the Pioneer lead was slowly chipped away.
Glenville was held to scoring only two points during a three minute stretch near the end.
Seton Hill closed the initial deficit to within five points in the home stretch. Had the clock not run out on them it looked like they were going to make a successful come-back victory.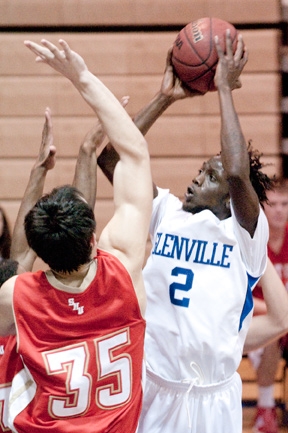 Marcus Catney (2) shoots for a pair in
traffic. He had 15 points on the night.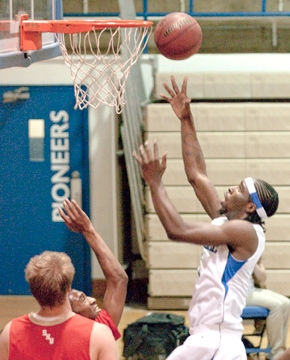 Gabe Gibbs (5) held his own against Seton Hill's
big man. He made several big plays including a dunk
that brought Pioneer fans to their feet in appreciation.
Marcus Catney, Gabe Gibbs and Nick Dent kept the Pioneers alive offensively and defensively.
Four Pioneers hit double figures led by Dent's 25. Catney followed with 15, Aaron Dobson had 12, and Ryan Burts scored 10. Dent and Catney shot 100-percent from the foul line, scoring 10 between them at the charity mark.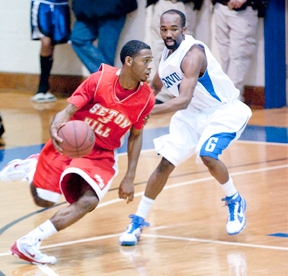 Ryan Burts (4) loses a step to Seton Hill's
point guard. Burts netted a double-double on
the night grabbing 11-rebounds, while scoring 10.
The final score was 78-69.
The Pioneers meet Shepherd University Thursday night at home. Tip off time is 7:30 p.m.