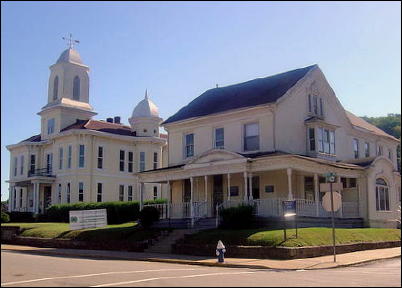 Historic Arnold-Edwards house (right) could be torn down
The Arnold family, Calhoun early-comers, could be losing a house in Weston from which they sprang.
The Village of Arnoldsburg is named for one of the Arnolds who came to Calhoun from the Lewis-Gilmer area.
A fight is on to save the historic Arnold-Edwards house, which reposes next to the Lewis County courthouse.
It was the home of the man who helped create the state of West Virginia when it seceded from Virginia - George Jackson Arnold.
The Lewis County Commission is considering demolishing the home to build a courthouse annex to house magistrate's court, the health department and other offices, and a parking lot.
Lewis County resident Brenda Reed says that would be "most disastrous."
In a letter to the U.S. Department of Agriculture's Rural Development Agency, Reed calls the home next door to the courthouse "a living link to a unique event in American history."