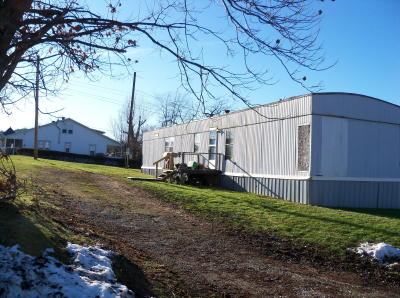 Home where an Elizabeth woman was shot by a State
Police officer after she wielded a sword, the dwelling is
located at intersection of Rt. 14-5 in Elizabeth
A Wirt County woman who was shot by a West Virginia state trooper last week remains in the critical care unit of a Morgantown hospital on life support.
Glenna Westfall, 39, of Elizabeth, was shot late Sunday night by Sgt. A. D. Nichols who was responding to a 911 call to Westfall's mobile home at the intersection of Rt. 5-14 in Elizabeth.
State Police issued a statement saying when the trooper arrived at the residence, Westfall grabbed a sword and aggressively advanced toward the officer.
The officer shot Westfall twice in the upper body. One of the bullets entered her chest and punctured her lung, while the other bullet did severe damage to an arm.
Westfall, described as a diminutive woman under five feet, was alone in her mobile home when the incident happened.
"The trooper fired his weapon and stopped the imminent threat," a State Police press release said.
"The trooper then provided basic first aid assistance, while he awaited the arrival of medical personnel."
Authorities had responded to an earlier 911 call a short time before the shooting. Westfall had been on the Route 5 Elizabeth bridge, allegedly threatening to commit suicide.
An official with the 911 Center in Wood County said authorities responded to a suicide call that came in around 11:08 p.m. Sunday.
In addition to the trooper, deputies from the Wirt County Sheriff's Department and Wirt County EMS responded to the earlier suicide call.
State police spokesman M.T. Baylous said, "There will be an internal investigation, as well as a criminal investigation in regard to Westfall's actions," saying charges against Westfall may be pending.
The officer has been put on leave, following procedure.
Westfall had been a client of Westbrook mental health services, and was well-known to the Wirt community, exhibiting problems that required responses from police and the local ambulance service.