By Bob Weaver

The Mt. Zion PSD board continued to take action on items during a special meeting Saturday that appeared to have been taken previously, but had apparently not been recorded in the PSD's minutes.

Among those items was a concurrence agreement with the USDA over bids approved by the PSD to Bruce Allen Pipeline for a pipe contract and to Mid-Atlantic for water tanks for the $5.2 million Calhoun project.

A pre-construction conference has been scheduled for December 21.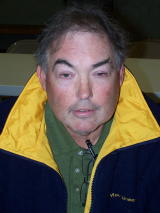 The board conducted business as usual, even though tank contractor Bruce Caswell (pictured left) of Welding Inc. had obtained a temporary restraining order against the PSD through December 7.
Board member Shirley Mace said the PSD conducted business because Caswell had not yet posted a $10,000 bond with his restraining order, which was granted last Wednesday by Judge David Nibert.
The board voted unanimously to accept the resignation of secretary-treasurer Wilma Mace.
Board member Shirley Mace gave a report on the status of equipment and records, following the secretary-treasurer's resignation.
The board has temporarily hired Saundra Ballengee to the position, but will post for a full-time employee later.
Shirley Mace said Wilma Mace had some items boxed, but some file cabinets had yet to be removed from her residence.
The PSD has asked for a 30-day continuance from the West Virginia Public Service Commission, who is investigating the PSD and requesting records back to 2006.
She said, "We cloned the hard drive from the PSD's computer," taking the records to a new office.
"Everything was dumped in boxes," she said.
Board member Mace also reported that electricity and gas had been turned-off to PSD operations because of non-payment of bills by the secretary-treasurer, and that the PSD's insurance policy had lapsed for non-payment.
She said water bills have not been sent for two months, nor has incoming mail been opened.
"It can't get any worse," she said, "We're working through this one step at a time," further stating, "We can't pay our bills," indicating it may be two months before customers receive a bill.
"We're asking for patience, as we get caught up," said board member Mace.
Mace and her daughter Norma Collins, who is volunteering, said the PSD is securing a new computer program to do billing, with board members to receive cross-training. They have also reached-out to the Pleasant Hill PSD for help.
TRACKING WHO MADE DECISIONS
Questions were asked by the Hur Herald to PSD attorney Tom Whitter about documentation indicating that the project might be in trouble if it was not put out to bid right away.
Whitter said the PSD received comments from the USDA and the Mid-Ohio Valley Regional Council, indicating they were concerned about further delays.
Calhoun Commissioner Chip Westfall said he was told by the MOVRC, on whose board he sits, that "There might not be enough money if the project was re-bid."
Contractor Ron Lane, whose bid was $200,000 less than Bruce Allen, said, "Prices are now going down."
Lane offered a bid revision at a recent meeting, which did not include cost variances, but it was denied because of bidding time frames.
The Herald, in an effort to clarify the denial of Lane's bid, asked attorney Whitter about such documentation.
Whittier indicated the PSD board's own attorney Robert Rodaker made the recommendation, likely based on a recommendation of project engineer Jim Hildreth.
"The USDA agreed (with Rodaker) but did not render a decision," Whittier said, "They do not make such decisions."
MOVRC representative Fred Rader told board members at an earlier meeting he had never seen a water project go down, despite problems and obstacles that flared.
"SOME FLAGS SHOULD BE GOING UP" SAYS LANE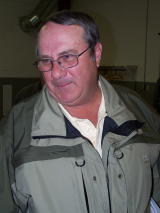 "I have been awarded this bid twice, and still didn't get it," Arnoldsburg contractor Ron Lane (pictured left) said, "Some flags should be going up."
Lane said he believed there ought to be a house-cleaning, including the project engineer and start over with a new project.
"I'd like to see our people get water," he said.
Indicating bid interference, "My attorneys think there are things that went along with this bidding process that were criminal," Lane said.
"He's [Jim Hildreth] manipulated this," Lane said, saying other contractors have been issued extensions under similar situations.
Lane, acknowledging tank contractor Bruce Caswell, said "Mr. Caswell himself got an extension with cost conditions in his bid."
Looking at attorney Whittier, Lane said "You all have made a lot of money dragging this out."
Lane also asked, "I'd like to know if the (PSD) board was under pressure...over losing funding?"
Following a controversy where board minutes could not be found, The board agreed to approve an addendum to Hildreth's contract, increasing his fee more than $100,000 to a total of $530,000.
Ancillary costs beyond actual construction go to attorneys, engineers and other agencies.