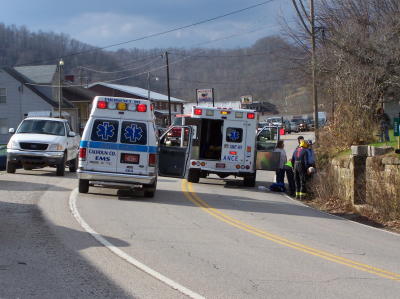 Orma man struck by car at upper end of Village of Arnoldsburg ...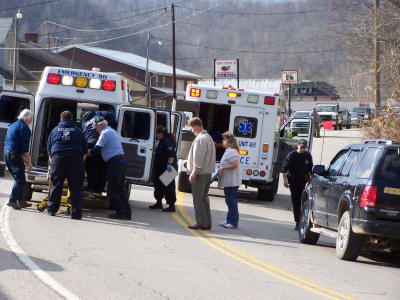 ... stepping into main highway US 33-119
A 35-year-old man from Wolf Run, Orma, was struck by a car at 12:48 p.m. today in a curve at the upper end of the Village of Arnoldsburg.
John McCutcheon was coming down a set of steps, apparently stepping directly onto US 33-119 when he was hit by a vehicle that was traveling west.
First responders found McCutcheon in a ditch, which is almost in the main highway.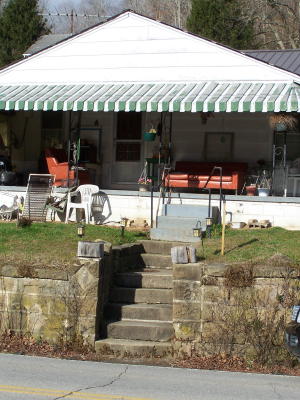 Man had been calling at this house, where steps drop to edge of highway
McCutcheon was going door-to-door with a group of Jehovah's Witnesses when the accident happened.
He was taken to the Arnoldsburg Community Park by Calhoun EMS, where he was life-flighted to Charleston Area Medical Center. Sources at the scene indicated the man was conscious and talking.
Deputy Carl Ballengee is investigating the accident.
The Arnoldsburg Volunteer Fire Department responded to the scene.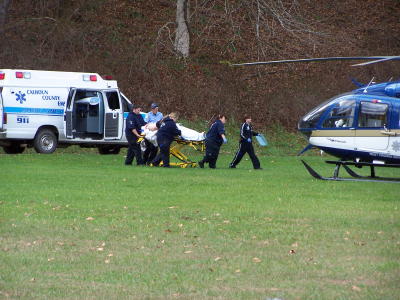 Responders load victim into chopper at Arnoldsburg Park