Three Calhoun-Gilmer Career Center students have recently received welding certifications in plate welding. According to Carl Collins, Welding Technology Instructor, each student is working very hard to achieve additional certificates.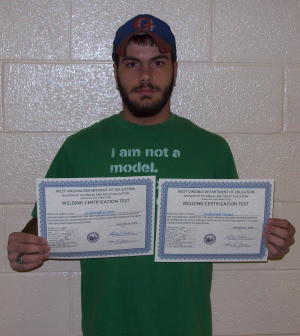 Zechariah Cosner receives certifications in stick and mig welding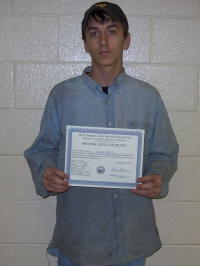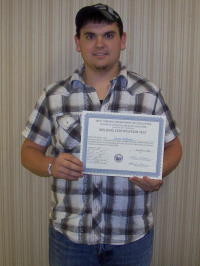 George Short Jr. (left) received his certification in stick
welding and is currently working on his mig certificate. Drew
Williams (right) received certification in stick welding on
plate and is currently working on his pipe welding certificate
"I am very proud of their hard work and dedication," said Collins. "I have several more students whom I believe will receive certifications this year."
Collins said both first and second year students can take the tests, but it takes a lot of hard work. The certificates are issued by the Department of Education after completion of a three position bend test given at the facility. The instruction and testing is invaluable to adult evening class students. The classes are currently held every Thursday.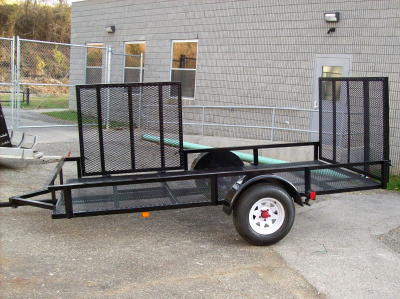 The welding class has been working on several projects this year, recently finishing a 6'x12' utility trailer (seen above) with 2 fold down ramps and a tilt bed.
The trailer will be for sale at Calhoun-Gilmer Career Center. Anyone interested may call 304-354-6151.
The class has also finished building two outdoor grills (pictured below) for the Calhoun County Park and one for Wayne Underwood Field in Grantsville. "I do strongly feel it is important to teach our youth that we need to do some type of community service," said Collins.