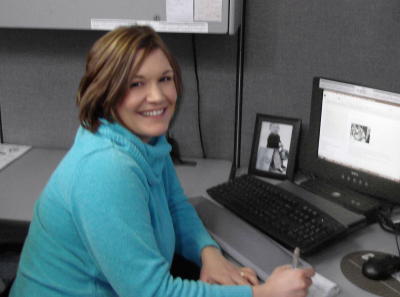 A West Virginia University Extension Service educator who works with individuals and groups on agriculture and natural resource issues in Roane and Calhoun counties was honored for her achievements during a recognition luncheon held recently at WVU Jackson's Mill State 4-H Camp, Weston.
Brandy E. Brabham (pictured above) a WVU Extension agent who specializes in agriculture and natural resources, received the New Employee Excellence Award and a Team Program Excellence Award.
The new employee honor is presented to outstanding educators who have worked for the WVU Extension Service for less than three years.
Brabham's peers selected her for the honor this year because she developed programs for multiple counties and started a media outreach program that shares Extension education through radio broadcasts, television appearances and news releases.
The educator was praised for building partnerships and securing grants to help fund her programming efforts.
She started Women in Agriculture Day and revitalized WVU Extension's Master Gardener Program in Roane and Calhoun counties.
Other achievements included the development of a local beekeepers association, a new farmers market and a community garden.
Described by co-workers as "a team player who realizes the importance of cooperation and communication in an office setting," Brabham trains 4-H volunteers, assists with 4-H camps and helps conduct 4-H workshops.
As a member of the statewide WVU Extension Garden Calendar Team, Brabham shared in the 2009 Team Program Excellence Award.
The popular calendar, which is a guide for both amateur and experienced gardeners, is one of the WVU Extension Service's longest-running publications.
In 2009, more than 75,000 copies were distributed throughout the state's 55 counties.
The educational publication includes articles about gardening-related topics like healthy recipes and food preservation.
Recognized for its outstanding design and content, the calendar has received two awards from the Association for Communication Excellence, an international organization for communicators who work in agriculture, natural resources, and life and human sciences.
In each county, WVU Extension educators connect local issues to community, state and national resources. Working with individuals, families, businesses and communities, Extension educators help people protect their resources, increase their income, improve their health, and build their leadership and career skills.
The WVU Roane County Extension Service office is located at 110 Parking Plaza, Spencer. Find the Calhoun office on the fourth floor of the Calhoun County Courthouse in Grantsville.
For more information about WVU Extension programs, check the Web www.ext.wvu.edu