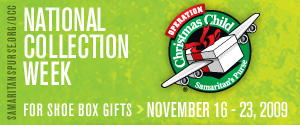 Brooksville Baptist Church
Shoe Box Relay Center
State Route 5 E Big Bend, WV
The annual Operation Christmas Child Shoe Box collection is in full swing through November 23rd, with Brooksville Baptist Church once again being a Relay Center for this area.
Shoe boxes can be dropped off at the church Monday through Friday this week, from 2 to 5 p.m. Saturday and Sunday the hours are 2 to 4 p.m., and next Monday, November 23, from 10 a.m. to noon. On that day the boxes, having been loaded into cartons, will be delivered to South Parkersburg Baptist Church, where they will then be loaded in to a tractor-trailer and delivered to Charlotte, N.C.
Charlotte is one of the National Distribution Centers where each shoe box is sorted to go to a specific country, and then shipped out to somewhere around the world for a child who would otherwise most likely receive nothing for Christmas.
This is a ministry of Samaritan's Purse, a Christian organization run by Franklin Graham, Billy Graham's son. A booklet telling the story of Jesus, and what He did for each of us, is placed in each shoe box, written in the language of the country that particular shoe box will be sent to.
Millions of children have accepted Christ as their Savior through this ministry. If you are interested in more information please contact Rosemary McDonald at 304-354-9220. It is not too late to do a shoe box this year. You have until next Monday, November 23.
For more about Operation Christmas Child samaritanspurse.org