State police have called off the search of a 96-acre farm at Copen in Braxton County where serial killer James Childers, 45, claimed to have buried several bodies.

Childers, a Clarksburg resident, in extensive letters and recordings made numerous claims, including a statement he killed and buried three women at the family farm.

An earlier search of the Braxton farm yielded the body of Carolyn Sauerwein, 40, of Philippi.

After two searches of the farm, police now say they would need more credible evidence to search the farm again.

The Clarksburg police have concluded their investigation into the Childers' murders after linking him to three deaths.

The body of Carrie Lynn Baker, 26 of Clarksburg was found in a dumpsite along Route 57 in Barbour County near the Harrison County line.

Childers was also linked to a 2004 murder.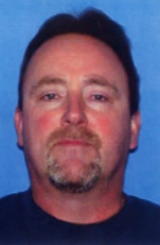 Childers (pictured left), ended up killing himself after leaving some detailed information about his crimes.
Police used cadaver dogs in searching the farm, which has little flat ground and rocky hillsides.
The FBI has classified Childers as a serial killer.