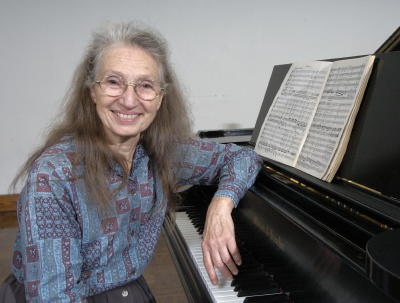 Submitted by Annette Barnette
Public Relations & Marketing Director
Glenville State College
Glenville, WV - The Glenville State College Fine Arts Department is again hosting the annual piano recital of Anita White. This concert will be held November 2nd at 7:00 p.m. in the GSC Fine Arts Center Auditorium.
The evening of classical pieces contains selections from GSC Music Department favorites: Bach, Chopin, Mozart, and Beethoven. The event is free to all, and everyone is welcome. White said, "I would like everyone to listen for a familiar children's song among these classical pieces."
White is GSC Adjunct Instructor of Piano and Department Accompanist. She has a B.A. degree from the Philadelphia Conservatory of Music with many years of experience as a piano recitalist, organ recitalist, and a teacher of music theory, voice, piano, organ, and related subjects. She has taught, directed, and been accompanist at numerous churches and public schools. White has been involved in the planning and performing of many community and church cantatas and oratorios. She resides in Gassaway (Braxton County).
For more information, contact Fine Arts Department Assistant Sheri Skidmore at Sheri.Skidmore@glenville.edu or (304) 462-4130